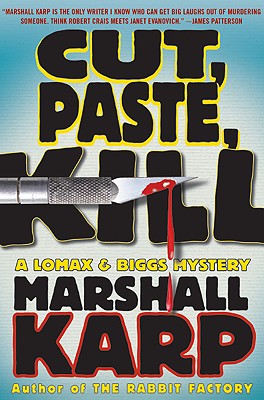 Cut, Paste, Kill: A Lomax & Biggs Mystery (Hardcover)
A Lomax & Biggs Mystery
Minotaur Books, 9780312378226, 304pp.
Publication Date: June 8, 2010
* Individual store prices may vary.
or
Not Currently Available for Direct Purchase
Description
When Eleanor Bellingham-Crump---a socialite responsible for the death of a ten-year-old boy---turns up murdered on the floor of a Hollywood hotel bathroom, Lomax and Biggs are confronted with a crime of artistic brutality. Along with the scissors sticking out of Eleanor's lifeless body, the two detectives find a meticulous scrapbook documenting a motive for vengeance in lurid detail.
As more bodies are discovered, each one connected by the intricate scrapbooks left at the murder scenes, Mike and Terry are on the hunt for a vigilante stalking unpunished criminals. They must race to decode the meaning behind the scrapbooks before the crafty avenger has time to cut and paste the story for another kill.
With laugh-out-loud humor and crackling dialogue, the chapters hurtle toward a killer finale in the most thrilling Lomax & Biggs adventure yet.
About the Author
An award-winning former advertising executive, Marshall Karp is a playwright and a screenwriter, and has written and produced numerous TV shows. Having paid his dues in Hollywood, he began killing the people he used to work with. He is currently coauthoring a thriller with James Patterson. If you'd like a shot at becoming a character in one of Marshall's future books, visit him at www.lomaxandbiggs.com. The link that lets you enter the contest isn't that easy to find, but then, you like a good mystery, don't you?
Praise For Cut, Paste, Kill: A Lomax & Biggs Mystery…
"This outstanding fourth chapter in the canon of Detectives Lomax and Biggs provides further proof of the indisputable: Marshall Karp writes the funniest dialogue in the detective genre.  If you have not yet read the Lomax and Biggs books, you simple must start." "Despite the humor, they really are good detectives.  After a great story and the introduction of many memorable characters (and some terrific red herrings) the case is successfully solved: The fun is getting there." "As with all the books in this series, the major and incidental characters are lovingly created and memorably drawn.  Author Marshall Karp is an exceptional wordsmith.  The storytelling is so entertaining that it demands that you read just one more page and then another until you realize you've finished the book." "With series titles, I normally recommend starting with the first book, but "Cut, Paste, Kill' would be the perfect introduction to this addictive series: The repartee crackles with great humor, the characterizations are vivid, the narrative flow impeccable, and you'll be stunned by the triple-twist at the end.  It's a perfect example of what makes this series great."  "With Lomax and Biggs, author Marshall Karp has created a pair of detectives who will be long remembered with the great creations of the genre, and you would be wise to join the bandwagon.  This is a great starting point." --The Courier-Journal 
"Funny is hard to do in a mystery, but Karp does it hilariously.  Set in Los Angeles, where a homicidal scrapbooker is on a rampage with scissors, Detectives Lomax and Biggs take on the absurdities of life in LA."
--Carole E. Barrowman, The Journal Sentinel
Advertisement