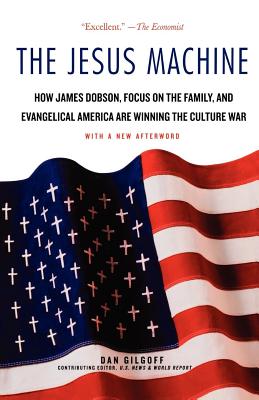 The Jesus Machine (Paperback)
How James Dobson, Focus on the Family, and Evangelical America Are Winning the Culture War
St. Martin's Griffin, 9780312378448, 352pp.
Publication Date: April 29, 2008
* Individual store prices may vary.
Description
Led by the immense behind-the-scenes influence of Dr. James Dobson, Focus on the Family has grown from its roots as a California radio show dispensing parenting advice to an unrivaled media ministry broadcasting on more than two thousand stations in the United States alone. Dobson has supplanted Jerry Falwell, Pat Robertson, and Ralph Reed as the political spokesman for tens of millions of American evangelical Christians--even though he is not a minister, but a family therapist with a doctorate in child development.
Dobson maintains that American political and social values are firmly rooted in Christian tradition--one that has come under siege beginning in the 1960s, as court rulings undermined the importance of religion in public policy. With the support of evangelical followers, Dobson has built a powerful political machine at both state and national levels to wage a crusade against abortion, gay rights, the teaching of evolution, stem cell research, and judicial activism.
Through painstaking research and interviews with leading evangelicals, including Ted Haggard, Jerry Falwell, Ralph Reed, and James Dobson himself, along with rare access to Focus on the Family and its affiliated organizations, Dan Gilgoff reveals the scope of Dobson's empire and its implications for the future of America.
This paperback edition includes a new afterword covering the Democratic and Republican presidential candidates--Obama, Clinton, Edwards, Huckabee, McCain, Giuliani, Romney, and Thompson--as they court Dobson and the evangelical vote in 2008.
About the Author
DAN GILGOFF is a senior editor at U.S. News & World Report, and has published numerous cover stories for the magazine, including a 2004 profile of Dobson and Focus on the Family. He is the author of The Jesus Machine. He lives in Washington, D.C.
Praise For The Jesus Machine: How James Dobson, Focus on the Family, and Evangelical America Are Winning the Culture War…
"In a time of overheated discussion about religion and politics, U.S. News reporter Dan Gilgoff went out and got the facts and reports them straightforwardly in The Jesus Machine. Gilgoff provides the definitive account of Dr. James Dobson, his Focus on the Family organization and other Christian activists, one that can be read with profit both by admirers and detractors of their movement." —Michael Barone, Senior Writer, U.S. News & World Report, and co-author, The Almanac of American Politics
"Gilgoff is a writer and journalist of the first rank - dependably honest with the facts and yet able to interpret them in light of the big picture. This is a book that evangelicals, as well as the critics of our movement, should surely read." —Richard Cizik, Chief Lobbyist, National Association of Evangelicals
"After years of providing valued family counseling to millions of Americans, James Dobson has emerged as one of the most influential voices on the Christian Right and a powerful force in American politics. His story deserves to be better understood. Dan Gilgoff has written a fair, objective, and revealing book--one that offers deep insight into why Dobson seems threatening to some but appeals to so many others." —David Gergen, Editor at Large, U.S. News & World Report
"Dan Gilgoff has written an excellent account of the political activities of Focus on Family and its important role in national elections. Fair and factual, this book can be profitably read by allies and adversaries alike." —John Green, Director, Bliss Institute, University of Akron
"The Jesus Machine is a tough read, my friends, for anyone in this country who believes in the separation of church and state. Tough, but absolutely necessary. Gilgoff has done a masterful job here of expanding knowledge, not just in documenting the rise of a specific constituency, but in providing an outline of movement-building in general." –Daily Kos" —Daily Kos
"This is a smart piece of investigative journalism" —Publishers Weekly
"THE JESUS MACHINE is the work of a reporter—in this case, a very good reporter…" —Sojourners
"… good reading for anyone trying to understand where the Republican Party is today and where it may be going." —Washingtonian
"Gilgoff… meticulously and comprehensively dissects the evangelical political movement and how it always intersects with James Dobson and his multimedia ministry… a remarkably astute grasp of the evangelical movement, their motives, their resources, and their goals." —National Review