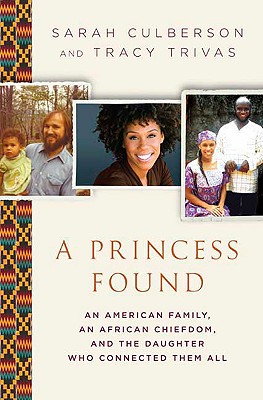 A Princess Found (Hardcover)
An American Family, an African Chiefdom, and the Daughter Who Connected Them All
St. Martin's Press, 9780312378790, 368pp.
Publication Date: July 7, 2009
Other Editions of This Title:
Paperback (5/11/2010)
* Individual store prices may vary.
Description
Sarah Culberson was adopted one year after her birth by a loving, white, West Virginian couple and was raised in the United States with little knowledge of her ancestry. Though raised in a loving family, Sarah wanted to know more about the birth parents that had given her up. In 2004, she hired a private investigator to track down her biological father. When she began her search, she never imagined what she would discover or where that information would lead her: she was related to African royalty, a ruling Mende family in Sierra Leone and that she is considered a mahaloi, the child of a Paramount Chief, with the status like a princess. What followed was an unforgettably emotional journey of discovery of herself, a father she never knew, and the spirit of a war-torn nation. A Princess Found is a powerful, intimate revelation of her quest across the world to learn of the chiefdom she could one day call her own.
About the Author
SARAH CULBERSON grew up in Morgantown, West Virginia. She attended West Virginia University, where she earned a B.A. in Theatre. She graduated from The American Conservatory Theatre in San Francisco with a Masters in Fine Arts and joined the Los Angeles acting community. Sarah has been seen acting on the stage as well as in TV and films. She has also danced with a professional salsa dance company called Conta-Tiempo. As President of the Kposowa Foundation in Los Angeles, she and many others head up fundraising with the goal of improving education for young people and rebuilding Sierra Leone. She lives in Los Angeles. TRACY TRIVAS, a graduate of Dartmouth College, won a Dartmouth Graduate Fellowship to study Victorian Literature at Oxford University, England. She received her Masters Degree in English from Middlebury College. Her middle-grade fiction book, "The Wish Stealers," will be released in the fall of 2009. She lives in California with her family.
Praise For A Princess Found: An American Family, an African Chiefdom, and the Daughter Who Connected Them All…
"A mannered account of a biracial woman raised by a white family in West Virginia who was reunited joyfully with her African family . . . The juxtaposition of the two narratives is deliberately jarring. While Culberson was being crowned Homecoming Queen, her family and other Mende people faced ambush, amputations—a favorite terror tactic of the rebels—and homelessness. As a girl growing up, Culberson was accused by other blacks of not being 'black enough' . . . Culberson's wrenching coming-of-age tale ably chronicles her love and acceptance by both of her families . . . Inspiring."—Kirkus Reviews
or
Not Currently Available for Direct Purchase