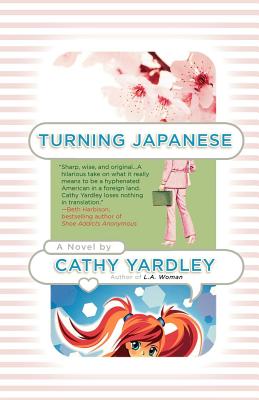 Turning Japanese (Paperback)
A Novel
St. Martin's Griffin, 9780312378806, 320pp.
Publication Date: April 14, 2009
* Individual store prices may vary.
Description
The Devil Wears Prada meets Lost in Translation in this irresistible new novel from L. A. Woman author Cathy Yardley
Meet Lisa Falloya, an aspiring half-Japanese, half-Italian American manga artist who follows her bliss by moving to Tokyo to draw the Japanese-style comics she's been reading for years. Leaving behind the comforts of a humdrum desk job and her workaholic fiancée, Lisa has everything planned---right down to a room with a nice Japanese family---but hasn't taken into account that being half-Asian and enthusiastic isn't going to cut it. Faced with an exacting boss and a conniving "big fish" manga author, Lisa risks her wedding, her friends, and her fears for a shot at making it big.
About the Author
Cathy Yardley is the author of the Fandom Hearts series, starting with Level Up, and needs to get out more. When not writing, she's usually lurking on social media, playing Fallout 4, or watching D-list movies and adding to her unnatural mental store of character-actor trivia. She's a fangirl of Supernatural, Doctor Who, Sherlock, LOTR, and too many others to name. She lives with her family in Seattle. They are considering performing an intervention for her addiction to pop culture.
Praise For Turning Japanese: A Novel…
"Sharp, wise, and original, Turning Japanese is a hilarious take on what it really means to be a hyphenated American in a foreign land - Cathy Yardley loses nothing in translation." —Beth Harbison, New York Times bestselling author of Shoe Addicts Anonymous
"Witty, endearing, and completely authentic . . . a whirlwind trip to the East. Cathy Yardley's sharp and exacting portrayal of life as an American in Japan is genuine and insightful." —Cara Lockwood, author of I Do (But I Don't) and Dixieland Sushi
"Chipper…Yardley doesn't take the obvious ways out. Lisa's trip to confidence and assertiveness has plenty of girl power verve." —Publishers Weekly
"A smart, funny, and insightful novel about finding yourself (literally and theoretically!) halfway across the world. I loved accompanying Lisa to Japan." —Melissa Senate, author of See Jane Date and Questions To Ask Before Marrying
"Adventurous, moving, and just plain fun." —Lauren Baratz-Logsted, author of Baby Needs a New Pair of Shoes