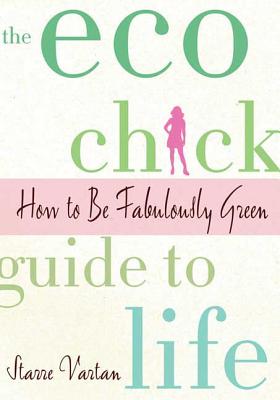 The Eco Chick Guide to Life
How to Be Fabulously Green
Paperback

* Individual store prices may vary.
Description
SAVE THE WORLD IN STYLE!
Lower your carbon footprint—in your favorite pair of stilettos—with THE ECO CHICK GUIDE TO LIFE. Here you'll find hundreds of ideas on how to be ecologically smart and still be stylish and trend-setting. You don't have to sacrifice to go green—you can eat well, dress well, and live well once you learn how to:
Learn where to shop for vintage and recycled jewelry (mining practices for gold and silver are notoriously polluting).
Wear sustainable threads—organic cotton, peace silk, bamboo—or look for funky reconstructed designs made from vintage fabrics.Find shoes made from naturally tanned and dyed leather, hemp, or made from recycled materials...that still look incredibly chic.Party it up- with the planet in mind! Make your next fiesta fabulous with organic beverages, seasonal food from the farmer's market, and more.
Pretty-up with organic, biodegradable hair products, body washes, moisturizers, and make-up—better for you and the planet's water supplies! We'll explain why and what to look for.How to earn points while convincing your boss to go green in your office.
Travel green and still see the world in style!Save cash with some Earth-loving swaps around your apartment, dorm or house.
…and more. Let these and other easy-to-follow, fun and fashionable tips help you to feel great while doing good. You and Mother Nature will look fabulous!
This book is printed on recycled paper.
Praise For The Eco Chick Guide to Life: How to Be Fabulously Green…
"Vartan's pleasure in living consciously is infectious; readers will appreciate her lack of condescension or preachiness and feel inspired to test—if not wholeheartedly adopt—her simple prescriptions." —Publishers Weekly
St. Martin's Griffin, 9780312378943, 272pp.
Publication Date: August 19, 2008
About the Author
Starre Vartan, a self-described eco-fashionista, is the founder and editor of Eco Chick (www.eco-chick.com), a blog for hip, environmentally savvy young women. Eco Chick has been featured on national television networks such as ABC and the CW as well as in the Wall Street Journal, Shape magazine, USA Today, Treehugger.com, and other media outlets. Starre lives in Norwalk, Connecticut.