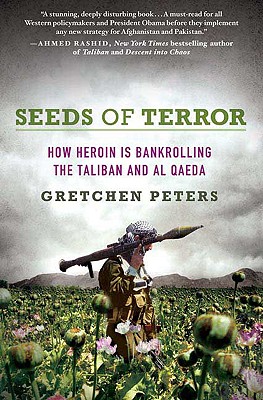 Seeds of Terror (Hardcover)
How Heroin Is Bankrolling the Taliban and al Qaeda
Thomas Dunne Books, 9780312379278, 320pp.
Publication Date: May 12, 2009
Other Editions of This Title:
Digital Audiobook (7/15/2009)
Paperback (4/27/2010)
Compact Disc (7/1/2009)
MP3 CD (7/1/2009)
Compact Disc (7/1/2009)
* Individual store prices may vary.
Description
""
Most Americans think of the Taliban and al Qaeda as a bunch of bearded fanatics fighting an Islamic crusade from caves in Afghanistan. But that doesn't explain their astonishing comeback along the Pakistan-Afghanistan border. Why is it eight years after we invaded Afghanistan, the CIA says that these groups are better armed and better funded than ever?
"Seeds of Terror" will reshape the way you think about America's enemies, revealing them less as ideologues and more as criminals who earn half a billion dollars every year off the opium trade. With the breakneck pace of a thriller, author Gretchen Peters traces their illicit activities from vast poppy fields in southern Afghanistan to heroin labs run by Taliban commanders, from drug convoys armed with Stinger missiles to the money launderers of Karachi and Dubai.
This isn't a fanciful conspiracy theory. "Seeds of Terror" is based on hundreds of interviews with Taliban fighters, smugglers, and law enforcement and intelligence agents. Their information is matched by intelligence reports shown to the author by frustrated U.S. officials who fear the next 9/11 will be far deadlier than the first--and paid for with drug profits.
"Seeds of Terror" makes the case that we must cut terrorists off from their drug earnings if we ever hope to beat them. This war isn't about ideology or religion. It's about creating a new economy for Afghanistan--and breaking the cycle of violence and extremism that has gripped the region for decades.
About the Author
Gretchen Peters has covered Pakistan and Afghanistan for more than a decade, first for the Associated Press and later for ABC News. A Harvard graduate, Peters was nominated for an Emmy for her coverage of the 2007 assassination of Benazir Bhutto and won the SAJA Journalism Award for a "Nightline "segment on Pervez Musharraf. She lives in the United States with her husband, the Robert Capa Gold Medal-winning photojournalist John Moore, and their two daughters.
Praise For Seeds of Terror: How Heroin Is Bankrolling the Taliban and al Qaeda…
"A stunning, deeply disturbing book . . . A must-read for all Western policymakers and President Obama before they implement any new strategy for Afghanistan and Pakistan."
- Ahmed Rashid, New York Times bestselling author of Taliban and Descent into Chaos

"A vitally important book. Until the United States admits what Peters knows, and changes course, the virulent narco-terrorism spreading across South Asia will cause us to lose not only Afghanistan but Pakistan as well."
- Robert Baer, New York Times bestselling author of Sleeping with the Devil and The Devil We Know

"Peters has done a superlative job with Seeds of Terror. It is a primer for the new administration--a blueprint for what must be done in Afghanistan to rescue victory from the jaws of defeat."
- Jack Lawn, DEA chief under Ronald Reagan and George H. W. Bush

"The linkage between fighting drugs and fighting terrorism is, with Seeds of Terror, now firmly established. Gretchen Peters, combining personal experience and in-depth research, paints a frightening picture and tells us how to surmont the problem. A critically important book."
- Raymond W. Baker, senior fellow at the Center for International Policy and author of Capitalism's Achilles Heel

"Detailed and highly readable . . . masterfully traces the enormous success of the illegal heroin trade in Afghanistan."
- Frederick P. Hitz, former inspector general of the CIA and author of Why Spy?

"An important examination of 'the nexus of [drug] smugglers and extremists' in the global war against terrorists. Peters builds a solid case [and] has exhaustively framed one of the thorniest problems facing policy makers in this long war."
- Publishers Weekly

"Sure to be hotly discussed, this new book explores the often labyrinthine connections between terrorism, the American government, and the heroin trade. Clear and persuasive...Peters shows how events that are happening today were set in motion by what took place in Afghanistan in the 1980s and 1990s."
- Booklist
or
Not Currently Available for Direct Purchase