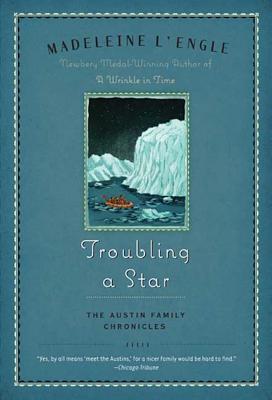 Troubling a Star
The Austin Family Chronicles, Book 5
Paperback

* Individual store prices may vary.
Other Editions of This Title:
Digital Audiobook (2/18/2019)
Description
In book five of the award-winning Austin Family Chronicles young adult series from Madeleine L'Engle, author of A Wrinkle in Time, a girl experiences the difficulties and joys of growing up.

The Austins have settled back into their beloved home in the country after more than a year away. Though they had all missed the predictability and security of life in Thornhill, Vicky Austin is discovering that slipping back into her old life isn't easy. She's been changed by life in New York City and her travels around the country while her old friends seem to have stayed the same. So Vicky finds herself spending time with a new friend, Serena Eddington—the great-aunt of a boy Vicky met over the summer.

Aunt Serena gives Vicky an incredible birthday gift—a month-long trip to Antarctica. It's the opportunity of a lifetime. But Vicky is nervous. She's never been away from her family before. Once she sets off though, she finds that's the least of her worries. She receives threatening letters. She's surrounded by suspicious characters. Vicky no longer knows who to trust. And she may not make it home alive.

Books by Madeleine L'Engle

A Wrinkle in Time Quintet
A Wrinkle in Time
A Wind in the Door
A Swiftly Tilting Planet
Many Waters
An Acceptable Time

A Wrinkle in Time: The Graphic Novel by Madeleine L'Engle; adapted & illustrated by Hope Larson

Intergalactic P.S. 3 by Madeleine L'Engle; illustrated by Hope Larson: A standalone story set in the world of A Wrinkle in Time.

The Austin Family Chronicles
Meet the Austins (Volume 1)
The Moon by Night (Volume 2)
The Young Unicorns (Volume 3)
A Ring of Endless Light (Volume 4) A Newbery Honor book!
Troubling a Star (Volume 5)

The Polly O'Keefe books
The Arm of the Starfish
Dragons in the Waters
A House Like a Lotus

And Both Were Young

Camilla

The Joys of Love
Praise For Troubling a Star: The Austin Family Chronicles, Book 5…
"[A] sensitive, well-written story of a young girl who unwittingly becomes involved in high-risk political and ecological intrigue, set against the starkly beautiful background of Antarctica. This is a story that is perfectly seasoned with just the right amount of everything: intrigue, romance, coming-of-age angst. . . . L'Engle is a master." —Kirkus Reviews, Starred Review
Square Fish, 9780312379346, 336pp.
Publication Date: September 2, 2008
About the Author
Madeleine L'Engle (1918-2007) was the Newbery Medal-winning author of more than 60 books, including the much-loved A Wrinkle in Time. Born in 1918, L'Engle grew up in New York City, Switzerland, South Carolina and Massachusetts. Her father was a reporter and her mother had studied to be a pianist, and their house was always full of musicians and theater people. L'Engle graduated cum laude from Smith College, then returned to New York to work in the theater. While touring with a play, she wrote her first book, The Small Rain, originally published in 1945. She met her future husband, Hugh Franklin, when they both appeared in The Cherry Orchard. Upon becoming Mrs. Franklin, L'Engle gave up the stage in favor of the typewriter. In the years her three children were growing up, she wrote four more novels. Hugh Franklin temporarily retired from the theater, and the family moved to western Connecticut and for ten years ran a general store. Her book Meet the Austins, an American Library Association Notable Children's Book of 1960, was based on this experience. Her science fantasy classic A Wrinkle in Time was awarded the 1963 Newbery Medal. Two companion novels, A Wind in the Door and A Swiftly Tilting Planet (a Newbery Honor book), complete what has come to be known as The Time Trilogy, a series that continues to grow in popularity with a new generation of readers. Her 1980 book A Ring of Endless Light won the Newbery Honor. L'Engle passed away in 2007 in Litchfield, Connecticut.