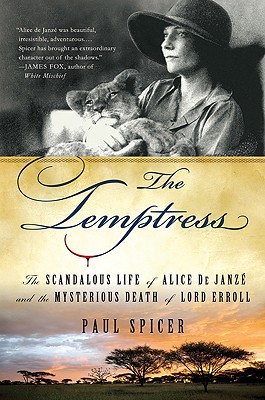 The Temptress: The Scandalous Life of Alice de Janze and the Mysterious Death of Lord Erroll (Hardcover)
The Scandalous Life of Alice de Janze and the Mysterious Death of Lord Erroll
St. Martin's Press, 9780312379704, 272pp.
Publication Date: July 20, 2010
* Individual store prices may vary.
or
Not Currently Available for Direct Purchase
Description
In the spirit of Frances Osborne's The Bolter, this fascinating life of femme fatale and gorgeous Chicago heiress, Alice de Janzé, offers a solution to the decadesold murder of Lord Erroll—the story at the center of James Fox's acclaimed book and movie White Mischief
A glamorous American multi-millionairess, Alice de Janzé scandalized 1920's Paris when she left her aristocratic French husband for an English lover—whom she later tried to kill in a failed murder-suicide in the Gare du Nord. Abandoning Paris for the moneyed British colonial society known as Kenya's Happy Valley, she became the lover of the handsome womanizer, Joss Hay, Lord Erroll. In 1941, Erroll was shot in his car on an isolated road. A cuckolded husband was brought to trial and acquitted, and the crime remained tantalizingly unsolved. Paul Spicer, whose mother was a confidante of Alice's, used personal letters and his own extensive research to piece together what really happened that fateful evening. He brings to life an era of unimaginable wealth and indulgence, where people changed bed partners as easily as they would order a cocktail, and where jealousy and hidden passions brewed. At the heart of
The Temptress
is Alice, whose seductive charms no man could resist, and whose unfulfilled quest for love ended in her own suicide at age forty-two.
About the Author
PAUL SPICER was born in Kenya and educated at Eton College. He was a Lieutenant in the Coldstream Guards, serving in the UK, Palestine, and Libya, as well as a managing director Overseas of Shell International Petroleum.
Advertisement