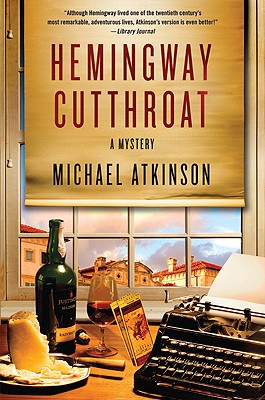 Hemingway Cutthroat: A Mystery (Hardcover)
A Mystery
Minotaur Books, 9780312379728, 272pp.
Publication Date: July 20, 2010
* Individual store prices may vary.
or
Not Currently Available for Direct Purchase
Description
There were no bullfights in 1937 Madrid, just bombs, freedom fighters, journalists, and plenty of corpses. Ernest Hemingway, covering the Spanish Civil War for the American press, came looking for stories and danger, and found something else: a friend murdered amid the ruins.
            With a new novel stirring in his head and his veins pumping with booze, Hemingway sets out to find who killed José Robles Pazos, a bureaucrat in the Popular Front, and who's covering it up. There is, after all, nothing like risking death in a war zone if it means living fast, nailing the bastards, and avoiding a deadline. With the writer John Dos Passos at his side, Hemingway wades into the darkness, discovering that his old WWI buddy is no mere casualty of war---but victim of something far more terrible.
            Boisterous, bare knuckled, and stewed to the gills, Hemingway Cutthroat captures the writer at the height of his career and in a Europe teetering on untold cataclysm, struggling to find out not just for whom, but why the bell tolled.
About the Author
MICHAEL ATKINSON is a former film critic for "The Village Voice" and has written for "The Believer, Spin, Details, Maxim, The Guardian, The American Prospect, LA Weekly, The Boston Phoenix, The Stranger, In These Times, Interview, " and numerous other publications. In addition to "Hemingway Deadlights, " he is the author of five books, has published hundreds of poems in the last two decades, and his work has been named as both "Best American Poetry" and "Best American Movie Writing" selections. For more than a decade he has lectured on film history and screenwriting at C. W. Post/Long Island University and New York University. The father of three, he lives with his family on Long Island.
Praise For Hemingway Cutthroat: A Mystery…
"Although Hemingway lived one of the twentieth century's most remarkable, adventurous lives, Atkinson's version even better!"
--Library Journal
"Good fun for classic hardboiled fans and, of course, for Hemingway aficionados, who will enjoy both Papa's boisterous charisma and the cameos from Martha Gellhorn and Josephine Herbst, among others."
--Booklist
 Praise for HEMINGWAY DEADLIGHTS 
"Hemingway Deadlights [is] as reminiscent of Bukowski as it [is] of Hemingway."
--The New Yorker (online)
"A rip-roaring, hilarious read, as brash and daring as Papa Hemingway himself.  Michael Atkinson will blow you away with his creative genius."
---Tess Gerritsen, author of The Keepsake
"This mystery certainly gave me everything I wanted in spades.... A terrific book."
---Mystery News Magazine
"Atkinson has a quirky, punch-drunk style that constantly surprises.... Pour yourself a shot and try the first few pages. You'll be hooked like a marlin."
---Zoom Street Magazine
"Neatly captures the personality and uproarious lifestyle of an American literary icon."
---Publishers Weekly
"Hemingway Deadlights is a tasty cocktail of suspense, sex, laughs, and literature. Though Hemingway didn't do these things, he damn well should have."
---Library Journal
Advertisement