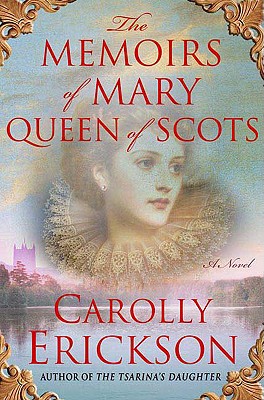 The Memoirs of Mary Queen of Scots (Hardcover)
St. Martin's Press, 9780312379735, 320pp.
Publication Date: September 1, 2009
* Individual store prices may vary.
or
Not Currently Available for Direct Purchase
Description
In this dramatic, compelling fictional memoir Carolly Erickson lets the courageous, spirited Mary Queen of Scots tell her own story—and the result is a novel readers will long remember.
Born Queen of Scotland, married as a young girl to the invalid young King of France, Mary took the reins of the unruly kingdom of Scotland as a young widow and fought to keep her throne. A second marriage to her handsome but dissolute cousin Lord Darnley ended in murder and scandal, while a third marriage to the dashing, commanding Lord Bothwell, the love of her life, gave her joy but widened the scandal and surrounded her with enduring ill repute.
Unable to rise above the violence and disorder that swirled around her, Mary plucked up her courage and escaped to England—only to find herself a prisoner of her ruthless, merciless cousin Queen Elizabeth.
Here, in her own riveting account, is the enchanting woman whose name still evokes excitement and compassion—and whose death under the headsman's axe still draws forth our sorrow.
In The Memoirs of Mary Queen of Scots, Carolly Erickson provides another in her series of mesmerizing historical entertainments, and takes readers deep into the life and heart of the sixteenth century's most fascinating woman.
About the Author
Distinguished historian Carolly Erickson is the author of" Rival to the Queen," "The First Elizabeth," "The Hidden Life of Josephine," "The Last Wife of Henry VIII," and many other prize-winning works of fiction and nonfiction. Her novel "The Tsarina's Daughter" won the "Romantic Times" Reviewer's Choice Award for Best Historical Fiction. She lives in Hawaii.
Praise For The Memoirs of Mary Queen of Scots…
"The always reliable Erickson mines rich historical territory when she excavates the relatively brief, yet ever-fascinating, life of Mary Queen of Scots for her latest historical tour de force. . . . This intimate reworking of a storied life etched with plenty of royal maneuvering and tragedy will appeal to the usual suspects—steer Alison Weir and Philippa Gregory fans immediately to this satisfying read."—Booklist
"A fast-paced, lavishly detailed narrative." —Kirkus Reviews
"As one of the foremost fictionalized biographers writing today, Erickson breathes life into history and brings great women to life. She brilliantly takes Mary, Queen of Scots, out of the historical record and creates a passionate woman readers will understand and adore. . . . Erickson's engrossing narrative allows Mary to speak and readers to decide what kind of woman she was."—Romantic Times (4 ½ stars, Top Pick)
"In her latest historical entertainment, Erickson blends fact with fancy as she unravels the life story and tragic end of Mary, Queen of Scots. . . . the narrative clips along at a suspenseful pace . . . The vividly realized relationship between Mary and her Scottish consort, Jamie, is the strongest aspect of the book. Recommended for historical fiction fans who enjoy Philippa Gregory and Jean Plaidy and can't read enough novels about this period."—Library Journal
"Engaging and personal . . . a fascinating read." —
Sacramento Book Review
Advertisement