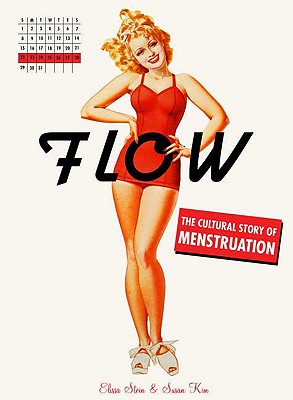 Flow (Hardcover)
The Cultural Story of Menstruation
St. Martin's Griffin, 9780312379964, 288pp.
Publication Date: November 10, 2009
* Individual store prices may vary.
Description
In this hip, hilarious and truly eye-opening cultural history, menstruation is talked about as never before. Flow spans its fascinating, occasionally wacky and sometimes downright scary story: from mikvahs (ritual cleansing baths) to menopause, hysteria to hysterectomies—not to mention the Pill, cramps, the history of underwear, and the movie about puberty they showed you in 5th grade.
Flow answers such questions as: What's the point of getting a period? What did women do before pads and tampons? What about new drugs that promise to end periods—a hot idea or not? Sex during your period: gross or a turn-on? And what's normal, anyway? With color reproductions of (campy) historical ads and early (excruciating) femcare devices, it also provides a fascinating (and mind-boggling) gallery of this complex, personal and uniquely female process.
As irreverent as it is informative, Flow gives an everyday occurrence its true props – and eradicates the stigma placed on it for centuries.
About the Author
Elissa Stein's most current publishing projects include NYC adventures with kids, interactive thank you notes, and visual histories of iconic pop culture--two of which were featured in Entertainment Weekly's Must Have list. In addition to writing, she runs her own graphic design business. She lives in the West Village with her husband Jon and their children, Izzy and Jack.Susan Kim wrote the stage adaptation of The Joy Luck Club and numerous one-act plays, which have been produced widely. She is an Writers Guild award-winning TV writer in documentary and children's programming, and has been nonimated five times for the Emmy. She teaches dramatic writing in the MFA program of Goddard College and lives in New York City with playwright Laurence Klavan.
Praise For Flow: The Cultural Story of Menstruation…
"Its contents, I found, are plainspoken—perhaps it will start chipping away at the taboo…the style is important and groundbreaking." –The New Yorker
"There is probably no better book for moms who want their daughters to respect themselves in every aspect...One can only ask Stein and Kim,'What took you so long?'" –Booklist
"Perfect for a preteen's introduction to adulthood and for women of all ages, this is guaranteed to spark conversation about…whether this universal female experience is a blessing, a curse—or just part of life." –Publishers Weekly
"In many ways, Flow is a breakthrough." –Daily Beast
"Flow isn't just a book; it's a movement." –January Magazine
"With wit, sarcasm, and common sense…the authors convey a great deal of information in an approachable and straightforward way…An entertaining and insightful book for women of all ages." –Library Journal
"A witty look at the history of 'the nuisance'…for women of all agees. Who hasn't wondered why we get a period, what women did before the invention of the tampon—let alone the pad. Flow explains all." –Body And Soul Magazine
"Flow is a beautiful book (coffee table worthy!) and quite educational, while keeping you laughing. There are some amazing factoids in here! (psst...There should be a trivia board game that goes along with this baby.) And the vintage ads are fab. Courteney Cox Arquette was the first person to say period in a commercial. I believe that Cybil Sheppard and Laurie Laughlin are in a few ads too. Did you know that the Hite Report didn't say anything about our periods? Lots of fun facts to wow your friends during the next girls night out!" –Viva La Feminista
or
Not Currently Available for Direct Purchase