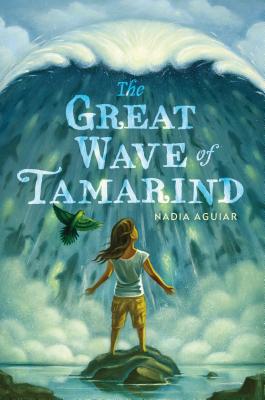 The Great Wave of Tamarind (The Book of Tamarind #3) (Hardcover)
Feiwel & Friends, 9780312380311, 384pp.
Publication Date: March 28, 2017
Other Editions of This Title:
Paperback (3/27/2018)
* Individual store prices may vary.
Description
Penny Nelson grew up listening to her older sister and brother recount their adventures in Tamarind, a magical island not found on any map, but she sometimes she can't tell which of her memories are hers and which are theirs.
After drifting out to sea, Penny once again finds herself on the shores of Tamarind. But things are wrong on the island: portals lead to treacherous places, a strange creature is wreaking havoc, and a Great Wave is coming to bring the Bloom, magic that can stabilize the island. Whoever completes three challenges gets to catch the Bloom—and keep some of that life-changing magic for their own use.
To save Tamarind and collect the magic, Penny has to brave dark ocean depths, survive the perils of the jungle, and outwit a cunning creature bent on bringing chaos.
Don't miss The Great Wave of Tamarind, the stunning conclusion to Nadia Aguiar's critically acclaimed middle-grade trilogy!
About the Author
Nadia Aguiar worked in publishing in New York City for a number of years, and has also lived in Canada and London, but currently she lives on her own subtropical island of Bermuda, where she was born and raised. She is the author of The Book of Tamarind series, including The Lost Island of Tamarind, Secrets of Tamarind, and The Great Wave of Tamarind.
Praise For The Great Wave of Tamarind (The Book of Tamarind #3)…
The Great Wave of Tamarind
"Sensory descriptions of imaginary flora, fantastic fauna, and vivid landscapes plus an atmosphere charged with impending danger add to Tamarind's allure. ... This exciting, fast-paced, satisfying finale to the Tamarind trilogy does not disappoint." —Kirkus Reviews
In Aguiar's satisfying finale to her Tamarind trilogy, Penny returns to the magical island seven years after Secrets of Tamarind (2011). . . . This volume works equally well as a standalone and a series conclusion (longtime fans will rejoice at Helix's return). With heartfelt emotion, an exotic setting, and a mix of wilderness survival and fantasy quest, this has something for everyone." —Booklist

Secrets of Tamarind
"This is a great adventure that sets the stage for a third book in the series." —School Library Journal
"In his quest to save everyone, Simon discovers that he is growing up and that although adventure is sweet, family means more. … Rich descriptions and quirky characters will captivate fantasy genre fans." —Dawna Lisa Buchanan, Children's Literature
The Lost Island of Tamarind:
"All signs point to a sequel—one that readers won't want to miss." —Publishers Weekly, starred review
"Readers will be drawn into this dangerous, magical world where anything is possible and nothing can be fully explained." —School Library Journal
"The book's magic . . . lies in Aguiar's precise, often lyrical descriptions. A native and resident of Bermuda, she writes with authority about daily life in the tropics....Aguiar uses her knack for realistic details equally well in the magical parts. . . . The Lost Island of Tamarind has a gentle spirit, tempering its dangers with warmth." —The New York Times Book Review
or
Not Currently Available for Direct Purchase