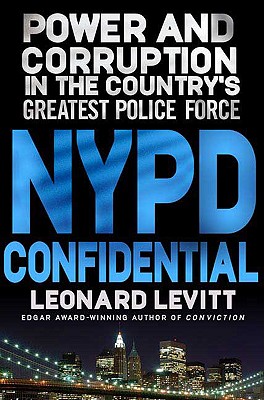 NYPD Confidential: Power and Corruption in the Country's Greatest Police Force (Hardcover)
Power and Corruption in the Country's Greatest Police Force
Thomas Dunne Books, 9780312380328, 320pp.
Publication Date: July 21, 2009
* Individual store prices may vary.
or
Not Currently Available for Direct Purchase
Description
For years, the police commissioner and the mayor of New York City have duked it out for publicity, credit, and power. Some have translated their stardom into success after leaving office, while others have been hung out to dry. In the battle for control of the country's most powerful police force, these high-status government officials have often chosen political expediency over public honesty. The result is a legacy of systemic corruption and cover-ups that is nothing less than shocking.
Respected journalist Leonard Levitt has covered the NYPD for
New York Newsday
, and the
New York Post
among other papers. His columns have made him
persona non grata
in police headquarters. In
NYPD Confidential
, he reveals everything he's discovered throughout his decades-long career. With amazing details of backroom deals and larger-than-life powerbrokers, Levitt lays bare the backstabbing, power-grabs, and chaotic internal investigations that have run the NYPD's reputation into the ground in the past—and the forces conspiring to do so once again.
About the Author
LEONARD LEVITT wrote the column, One Police Plaza for "Newsday "about the New York City police department from 1995 to 2005. He has also worked as a reporter for the Associated Press and the "Detroit News," as a correspondent for "Time, "and as the investigations editor of the "New York Post." His work has appeared in "Harper's," "Esquire, "and the "New York Times Magazine." He received an Edgar Award for his nonfiction work "Conviction."
Praise For NYPD Confidential: Power and Corruption in the Country's Greatest Police Force…
"This is a veteran reporter's inside story about the New York City Police Department. It's a fascinating read. I couldn't put it down. Leonard Levitt delves into the murky backroom deals of City Hall, and the missing pieces to the NYPD's corruption fall skillfully into place."--Frank Serpico "One thing you can be sure of: 35,000 New York cops always were the first to read Lenny Levitt's stories every time. It was true comedy to watch him, small and with a big pad, go down the hall in headquarters as top officials, brass jangling, egos scraping the ceiling, flew into their offices. Levitt's book also is depressing when he tells of an innocent being shot. Amadou Diallo was shot forty-one times by police in his Bronx doorway. The case was moved to Albany, where the only thing you could say about a cop was 'not guilty.' You will read every page of this book, as I did."--Jimmy Breslin "When you read about the political and personal agendas at the top of the NYPD, it makes you feel sorry for the honest copys who signed on to protect and serve."--Bob Ingle, coauthor of The Soprano State "Len Levitt's behind-the-scenes account of the NYPD is in the tradition of hard-hitting New York police reporters such as Jacob Riis and Lincoln Steffens. I find his work fascinating."--Thomas Reppeto, former president of the Citizens Crime Commission of New York City, and coauthor of NYPD: A City and Its Police "Eye-opening reporting on America's largest and most powerful police force."-- Kirkus Reviews "Want to always feel in the know? Len Levitt's website is the place to go. Controversial, informative, insightful: he never hesitates to tackle an issue or render an opinion." --WILLIAM BRATTON, Chief of Police, LAPD, former Police Commissioner, NYPD "Lenny Levitt is the Walter Winchell of the NYPD. Some love to read him. Some hate to read him. But everybody reads him." --JOHN MILLER, Assistant Director, FBI, former NYPD spokesman "Love him or hate him, Len Levitt is required reading for many within the ranks of the NYPD, present and past." --Chief JOHN F. TIMONEY, Miami Police Department and former NYPD First Deputy Commissioner
Advertisement