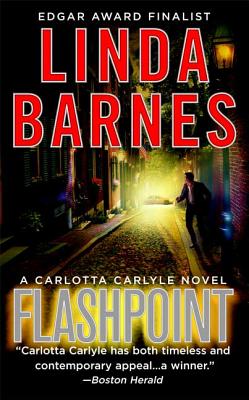 Flashpoint (Carlotta Carlyle Mysteries #8) (Paperback)
Minotaur Books, 9780312380496, 400pp.
Publication Date: April 29, 2008
* Individual store prices may vary.
Description
When six-foot redhead ex-cop and Boston-based private investigator Carlotta Carlyle agrees to help an elderly recluse burglar-proof her apartment, the last thing she expected was that the woman would turn up dead. Now Carlotta must find out why the eccentric yet seemingly harmless Valentine Phipps isolated herself—and needed protection.
Who would want to hurt Valentine? What was she hiding behind closed doors? Is there a connection between her murder and an age-old mystery that the city's top brass—and its real-estate moguls—want to keep buried? But the most troubling question of all involves the victim's home health aide, Gwen: Why did she introduce Valentine to Carlotta in the first place? The race to catch one of Boston's most ruthless and ambiguous criminals has just begun….
About the Author
Linda Barnes is winner of the Anthony and American Mystery Awards, an Edgar Award finalist, and the author of the Carlotta Carlyle mysteries, including Heart of the World and Lie Down with the Devil. She lives in the Boston area with her husband and son.
Praise For Flashpoint (Carlotta Carlyle Mysteries #8)…
"Carlotta Carlyle has both timeless and contemporary appeal…a winner." —Boston Herald
"One of the best private-eye series ever." —Harlan Coben
"A sizzler of a crime story." —Booklist
"FLASHPOINT further cement[s] Carlotta's place in the pantheon of contemporary P.I.s." —Chicago Tribune
or
Not Currently Available for Direct Purchase