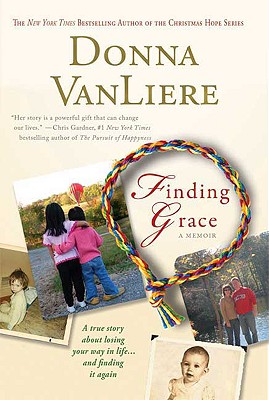 Finding Grace: A True Story About Losing Your Way In Life...And Finding It Again (Hardcover)
A True Story About Losing Your Way In Life...And Finding It Again
St. Martin's Press, 9780312380519, 224pp.
Publication Date: March 31, 2009
* Individual store prices may vary.
or
Not Currently Available for Direct Purchase
Description
"Finding Grace "is the powerful, often humorous, and deeply moving story of one woman's journey of broken dreams. It is the story of how a painful legacy of the past is confronted and met with peace. This book is for anyone who has struggled to understand why our desires even the simplest ones are sometimes denied or who has questioned where God is when we need him most. This story is about one woman's unlikely road to motherhood. Finally, it's a book about the "undeserved gift which is life itself." It's the story of "Finding Grace."
Donna VanLiere has entertained millions with her inspirational stories. In her new book, she gives us a candid look into her own life, a life filled with suffering and pain, but one that ultimately finds peace with itself.
About the Author
Donna VanLiere is a "New York Times" and "USA Today" best-selling author. Her much-loved Christmas Hope series includes "The Christmas Shoes" and "The Christmas Blessing," both of which were adapted into movies for CBS Television; "The Christmas Secret"; "The Christmas Journey"; and "The Christmas Hope," which was adapted into a film by Lifetime. She is also the author of "The Angels of Morgan Hill." VanLiere is the recipient of a Retailer's Choice Award for Fiction, a Dove Award, a Silver Angel Award, an Audie Award for best inspirational fiction, and a nominee for a Gold Medallion Book of the Year. She is a gifted speaker who speaks regularly at conferences. She lives in Franklin, Tennessee, with her husband and their children.
Praise For Finding Grace: A True Story About Losing Your Way In Life...And Finding It Again…
First published April 1, 2009 (Booklist).
Although many books are called "inspirational memoirs," too few live up to their label. VanLiere's is one of the finest. Her life journey got off to a rocky start. Molested twice at a very early age, VanLiere was to face other soul-ripping experiences, including miscarriage and multiple failures with fertility efforts. Somehow, through the steadfast observation of small, everyday things, VanLiere experienced life-altering epiphanies, and she shares these in an open, honest fashion. Her folksy, familiar style makes readers feel as though they're communing with a close friend. At turns poignant and humorous, her memoir is impossible to put down. Laced with thought-provoking quotations from philosophers and other great minds as well as from the Bible, Finding Grace is never preachy or didactic. It has the same appeal as Rabbi Harold S. Kushner's excellent book, When Bad Things Happen to Good People (1983). Author of the best-selling Christmas Hope series, VanLiere expresses wonder as she finds joy in the mundane and jubilation in life's little extras.
—Shelley Mosley
Advertisement