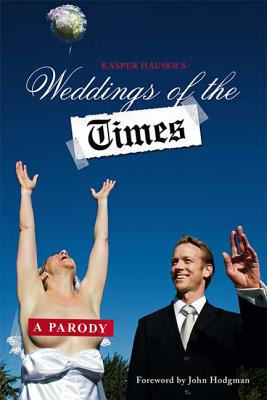 Weddings of the Times: A Parody (Paperback)
A Parody
Griffin, 9780312380915, 118pp.
Publication Date: June 9, 2009
Description
You are cordially invited to celebrate
A Parody of
"The New York Times"
Wedding Announcements
by
Kasper Hauser
Along with fully illustrated guides to:
Wedding-night sex,
Honeymoon hot spots,
Formalwear malfunctions,
and much, much more.
At four o'clock in the Afternoon.
Or is it three o'clock?
Didn't you bring the invitation?
Huh? Where the hell is the turnoff?
Back there. I think I saw a paper plate and some balloons.
What's wrong?
I just need to eat something. I'm fine.
Remind me how we know these people?
"In this collection, Kasper Hauser reminds us that a wedding announcement is a window into the most goofball daydream a couple can have about itself.... These are not parodies, but little human stories, full of want and hope, even when they involve falconry."
"---from the foreword by John Hodgman.
About the Author
The KASPER HAUSER COMEDY GROUP is Rob Baedeker, Dan Klein, James Reichmuth, and John Reichmuth. In addition to performing live shows in the U.S. and Europe, the group's members have appeared on Comedy Central and on Public Radio International. The Kasper Hauser podcast, produced by The Sound of Young America, was selected as an iTunes Best Podcast in 2006, nominated for a 2008 Rooftop Award for Best Comedy Podcast, and chosen as "Podcast of the Week" by the Times of London.
Praise For Weddings of the Times: A Parody…
Praise for Sky Maul:
"Reading this blurb is a form of inefficiency, because to know that this book is madly funny, full of wild invention, and definitively satirizes one of the most banal and loathsome of all American institutions, all you have to do is skip this blurb and open the book to any page. But if you've made it this far, it's too late. Sorry for wasting your time. OPEN THE BOOK."—George Saunders, author of CivilWarLand in Bad Decline and Pastoralia

"You will laugh yourself sad at this fake catalog, lovingly crafted from the finest comedy by a couple of brilliant, funny douchebags."—Patton Oswalt

"The D.U.I. Mask really works!"—David Foster Wallace
"Not since the days of Not the New York Times and The Journal of Irreproducible Results has the sly, surprising parody of otherwise ignored cultural detritus seemed so sharp and overdue; not since the days of the actual feral child named Kasper Hauser has humor writing been so nimble, hungry, wiry, and covered with a fine, catlike fur."—John Hodgman, author of Areas of My Expertise and contributor to The Daily Show with Jon Stewart

"SkyMaul provides great reading on a plane, particularly on those long flights, because I usually forget to bring a book. I was disappointed that some of the items were on back order and, I'm informed, may not be available at all. But the fact that the catalog is available means that THE TERRORISTS HAVE NOT WON!"—Fred Willard

"This is the funniest catalog I've ever read. And they didn't even go with the old lady holding the giant 'massager.' Funny and classy."—Joel Stein, LA Times

"This is the catalog that SHOULD be on every plane! A perfect absurdist comment on just how odd sky shopping truly is! I wish I'd had it on my last flight. Instead, I had to watch The Ice Princess."—Nicole Parker, MADtv
Advertisement