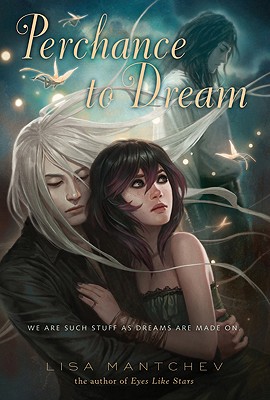 Perchance to Dream (Hardcover)
Feiwel & Friends, 9780312380977, 337pp.
Publication Date: May 25, 2010
Other Editions of This Title:
Paperback (8/16/2011)
* Individual store prices may vary.
Description
From the critically acclaimed author of Eyes Like Stars
We are such stuff as dreams are made on.
Act Two, Scene One
Growing up in the enchanted Theatre Illuminata, Beatrice Shakespeare Smith learned everything about every play ever written. She knew the Players and their parts, but she didn't know that she, too, had magic. Now, she is the Mistress of Revels, the Teller of Tales, and determined to follow her stars. She is ready for the outside world.
Enter BERTIE AND COMPANY
But the outside world soon proves more topsy-turvy than any stage production. Bertie can make things happen by writing them, but outside the protective walls of the Theatre, nothing goes as planned. And her magic cannot help her make a decision between
Nate: Her suave and swashbuckling pirate, now in mortal peril.
Ariel: A brooding, yet seductive, air spirit whose true motives remain unclear.
When Nate is kidnapped and taken prisoner by the Sea Goddess, only Bertie can free him. She and her fairy sidekicks embark on a journey aboard the Theatre's caravan, using Bertie's word magic to guide them. Along the way, they collect a sneak-thief, who has in his possession something most valuable, and meet The Mysterious Stranger, Bertie's father and the creator of the scrimshaw medallion. Bertie's dreams are haunted by Nate, whose love for Bertie is keeping him alive, but in the daytime, it's Ariel who is tantalizingly close, and the one she is falling for. Who does Bertie love the most? And will her magic be powerful enough to save her once she enters the Sea Goddess's lair?
Once again, LISA MANTCHEV has spun a tale like no other full of romance, magic, adventure, and fairies, too that readers won't want to put down, even after the curtain has closed.
About the Author
Lisa Mantchev is the author of the Theatre Illuminata series, including Perchance to Dream and Eyes Like Stars. She grew up in the small Northern California town of Ukiah. She wrote her first play in the fourth grade, and has been involved in theater ever since. She received two scholarships to study drama at the University of California, Irvine. She won the Chancellor's Award For Undergraduate Research in Drama her senior year while studying in the Campuswide Honors Program. After graduation, she taught English at the Lycee Internationale de Los Angeles and created their Drama After School Program. In between report cards and drafting scripts for Winter and Spring productions, she wrote fiction. Her first professional short fiction sale was in 2002, and her debut trilogy sold in 2007. Mantchev makes her home on the Olympic Peninsula of Washington state with her husband Angel, her daughter Amelie and four hairy miscreant dogs. When not scribbling, she can be found on the beach, up a tree, making jam or repairing things with her trusty glue gun.
Praise For Perchance to Dream…
"The sequel to Eyes Like Stars, this is another rousing adventure of literary and theatrical whimsy, filled with sly twists and humorous moments. Bertie's continuing story deserves multiple encores and a standing ovation." –Realms of Fantasy
"Mantchev's highly imaginative prose bursts with lush imagery and literary riffs, and the party's encounter with the Innamorati, a traveling circus inspired by Cirque du Soleil, enhances the book's surrealism… fans of the first book will cry 'Encore!' as the ending sets up the third in the series." --
School Library Journal
"The pace is fast and furious, and the secrets to Bertie's intriguing heritage unfold satisfyingly, but it's Mantchev's fresh, intelligent style that delights most… This fantastical romp—an absolute must for theater buffs—might stand alone, but it'd be a pity not to start with the first." --Kirkus Reviews
 Praise for Lisa Mantchev and
Eyes Like Stars
: "All the world's truly a stage in Lisa Mantchev's innovative tale,
Eyes Like Stars
. Magical stagecraft, unmanageable fairies, and a humourous cast of classical characters form the backdrop for this imaginative coming-of age."—Suzanne Collins
 "With an iron-willed girl hero whose magic is with words, and a universe that is also the ultimate theater,
Eyes Like Stars
is the most unusual fantasy I've read this year! I recommend it to anyone who loves drama, strong girls, and rowdy faery folk!"—Tamora Pierce
 "The delicious descriptions of the theater's strange powers are fascinating, the characters vivid, the dialogue smart and sassy, and Bertie's fiercely loyal fairy cohorts from
A Midsummer Night's Dream
bawdy and hilarious. . . . The palpable sense of urgency is also fueled by some well-staged romance, as well as by Bertie's quest to discover who she is and what she's made of. Brava! Encore!"—
Kirkus Reviews
, Starred Review
 "Bertie's determined efforts to become invaluable form the basic plot in this wildly imagined adventure…Mantchev clearly knows theater from all angles, and she uses inventive play-within-play formats to create a tumble of multiple, even metaphysical narratives filled with delicious banter and familiar characters from the dramatic canon. Many teens, particularly those with some theatrical background, will look forward to the sequel suggested at the end of this bravely flamboyant and wholly original romp."—
Booklist
or
Not Currently Available for Direct Purchase