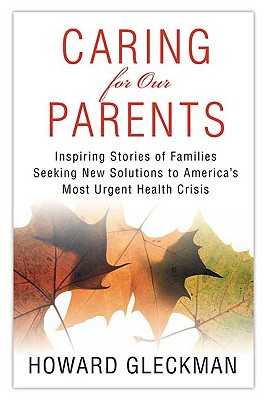 Caring for Our Parents (Hardcover)
Inspiring Stories of Families Seeking New Solutions to America's Most Urgent Health Crisis
St. Martin's Press, 9780312380991, 320pp.
Publication Date: May 26, 2009
* Individual store prices may vary.
Description
When his mother-in-law died suddenly and his seriously ill father-in-law was left with no one to care for him, the author and his wife were thrust into the complex and overwhelming world of long-term care. Just months later his own father fell sick, and the couple struggled to help care for him too—from 1000 miles away. Over the next year-and-a-half, this ordinary family faced one crisis after another, as each day brought new struggle and pain, but also surprising rewards. They were among the 44 million Americans who are caring for elderly parents or relatives or friends with disabilities.
Someone you love will almost certainly need long-term care services before they die. Nearly 70 percent of our parents will receive such help sometime during their old age—usually at home, though often in a nursing home. It will last for an average of three years, though one in five will need this assistance for five years or more. This book tells the sometimes painful, sometimes uplifting, and always compelling stories of the families who struggle every day with the care needs of their loved ones. The costs are crushing: and the weight of 77 million aging Baby Boomers will devastate our nation's already fragile system for funding this critical day-to-day assistance. How can we repair the tattered safety net that is so essential to our aged and disabled?
About the Author
HOWARD GLECKMAN is a veteran journalist who has covered economic and fiscal policy, personal finance, and health care for 30 years. He was a senior correspondent in the Washington bureau of "Business Week, " a Media Fellow at the Henry J. Kaiser Family Foundation, and a visiting fellow at the Center on Retirement Research at Boston College. He is currently a senior researcher at The Urban Institute.
Praise For Caring for Our Parents: Inspiring Stories of Families Seeking New Solutions to America's Most Urgent Health Crisis…
"Compelling personal stories, helpful information about where to turn for assistance, and ideas for ways to strengthen the safety net that too often fails families facing crisis. Caring for Our Parents is a book for everyone, but particularly for Boomers with aging parents or loved ones, and for our elected representatives who need guidance on how we can do better."--John Rother, Executive Vice-President AARP
"There are lots of books about eldercare, but none like Caring for Our Parents. By telling his personal story and those of others, Howard Gleckman helps us understand why caring for our parents is such a challenge. This is a must read for every Baby Boomer."--Suzanne Mintz, President, National Family Caregivers Association
"Although the U.S. spends far more on health care than other country, its treatment of millions of elderly and disabled is shameful. Even when families are willing and able to provide care at home, the 'system' makes it nearly impossible. In this well-written and compassionate book, Howard Gleckman doesn't just describe the problem, he expands our vision of what long-term care should be."--Kathleen A. Kelly, Executive Director, Family Caregiver Alliance/National Center on Caregiving
"Howard Gleckman knows firsthand about caring for his elderly parents. In his illuminating Caring for Our Parents, Gleckman shines a spotlight on the financial and physical price we pay to help our loved ones in a fractured and inadequate network of long-term care services. As he profiles families who meet those challenges with love, determination, and grace, he raises important questions about how our nation will cope as the enormous Baby Boomer generation ages. Caring for our Parents is a wake-up call to a graying nation."--Mary Beth Franklin, Senior Editor, Kiplinger's Personal Finance
"Compelling personal stories, helpful information about where to turn for assistance, and ideas for ways to strengthen the safety net that too often fails families facing crisis. Caring for Our Parents is a book for everyone, but particularly for Boomers with aging parents or loved ones, and for our elected representatives who need guidance on how we can do better."--John Rother, Executive Vice-President, AARP
or
Not Currently Available for Direct Purchase