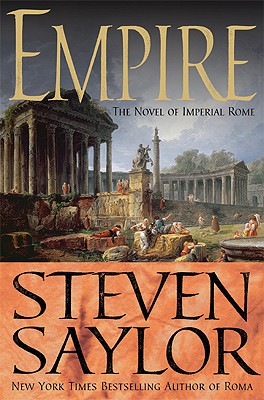 Empire (Hardcover)
The Novel of Imperial Rome
St. Martin's Press, 9780312381011, 608pp.
Publication Date: August 31, 2010
Other Editions of This Title:
Digital Audiobook (8/30/2010)
Paperback (8/30/2011)
Paperback (5/1/2011)
Paperback (3/1/2011)
CD-Audio (8/31/2010)
* Individual store prices may vary.
Description
"May Steven Saylor's Roman empire never fall. A modern master of historical fiction, Saylor convincingly transports us into the ancient world...enthralling!" —USA Today on Roma
Continuing the saga begun in his
New York Times
bestselling novel
Roma,
Steven Saylor charts the destinies of the aristocratic Pinarius family, from the reign of Augustus to height of Rome's empire. The Pinarii, generation after generation, are witness to greatest empire in the ancient world and of the emperors that ruled it—from the machinations of Tiberius and the madness of Caligula, to the decadence of Nero and the golden age of Trajan and Hadrian and more.
Empire
is filled with the dramatic, defining moments of the age, including the Great Fire, the persecution of the Christians, and the astounding opening games of the Colosseum. But at the novel's heart are the choices and temptations faced by each generation of the Pinarii. Steven Saylor once again brings the ancient world to vivid life in a novel that tells the story of a city and a people that has endured in the world's imagination like no other.
About the Author
Steven Saylor is the author of the long running Roma Sub Rosa series featuring Gordianus the Finder, as well as the "New York Times" bestselling novel, "Roma." He has appeared as an on-air expert on Roman history and life on The History Channel. Saylor was born in Texas and graduated with high honors from The University of Texas at Austin, where he studied history and classics. He divides his time between Berkeley, California, and Austin, Texas.
Praise For Empire: The Novel of Imperial Rome…
"The Pinarii characters afford an excellent lens through which to view both imperial and daily life, and the great events of the span from 14 CE through 141 CE, including the Great Fire, the persecutions of Christians, numerous military campaigns, and, of course, insanity and perversion among the emperors. Saylor is an excellent guide through this fascinating underworld. Superb historical fiction."—Booklist (starred review) "Saylor's encyclopedic knowledge and sense of detail are on ample display, as is his impressive ability to weave centuries of history into an entertaining narrative...[a] magnificent feat of storytelling."—Historical Fiction Review "May one day be seen as his magnum opus. It is certainly the most ambitious of his novels thus far, and the grandest in its sweeping scope and attention to detail...full of power and pathos."—Ben Witherington, The Bible and Culture "I rate a book by whether I simply read it or devour it. This I devoured." —Rob Cain, Ancient Rome Refocused "Meticulous research and brilliant storytelling... What impressed me most was the novel's powerful emotional impact: the pain of unrequited love, hopes disappointed or friendship betrayed as well as the joy of a love returned, spiritual enlightenment or simply being alive. This is a great book by a great writer." —newbooks magazine "Love stories, including forbidden ones, intrigue, action in the Arena, thrilling escapes, tons of 'it can't be true but actually it was' anecdotes...as well as many superb characters—you will find all in these almost 600 pages. With extraordinary detail and world building, Empire is a clear work of love for the author and the single best novel he has written." —Fantasy Book Critic "Historical events provide plenty of depraved details and comparisons that beg to be drawn to today; lions and gladiators in the arena, volcanic eruptions, live burials, and master illusionists abound to fire up any number of dinner conversations....Recommended for anyone who enjoys Roman history."—Library Journal "Saylor...vividly describes how the family survives the volcanic destruction of Pompeii, the burning of Rome, and the persecution of Jews and Christians." —Publishers Weekly "Filled with tales of intrigue, ambition, violence, and suspense...a vivid evocation of the bloodthirsty, chaotic spectacle that was ancient Rome, and an example of how the best historical fiction brings the past to life."—Archaeology Magazine
or
Not Currently Available for Direct Purchase