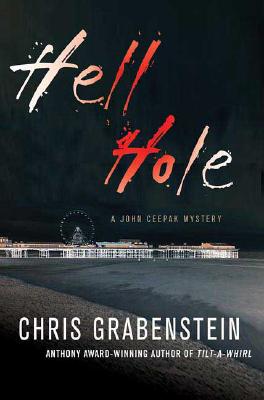 Hell Hole (Hardcover)
Minotaur Books, 9780312382308, 304pp.
Publication Date: July 22, 2008
* Individual store prices may vary.
Description
Hell Hole is the fourth book in the mystery series featuring former hardened military PD and current Sea Haven, NJ police officer John Ceepak and his partner, wise-cracking Danny Boyle. In Hell Hole, Ceepak is confronted with his most personal case yet when he must investigate the alleged suicide of a military corporal who recently returned from Iraq. When it turns out that this "locked stall" rest stop suicide is anything but an open-and-shut case, Ceepak and Boyle realize that the corporal might have been privvy to information that opens up a much larger conspiracy that strikes at the heart of our involvement in the Middle East, and puts them on the wrong side of some very unpleasant people...
Praise For Hell Hole…
"Chris Grabenstein has raised the stakes in Hell Hole, the latest offering in the Ceepak mystery series. All the reasons I fell in love with the series are still there: Danny is still the Candide-like character through whom we see the honorable, lie-hating John Ceepak, the writing is still as smooth as glass and as honest as a boy scout, the dialogue still rings as true as a dinner bell. But in Hell Hole, Grabenstein has taken it to a whole new level. Like the boardwalk ride he describes, he drops the bottom out of what we think we know, and gives us a story that's as dark and mesmerizing as the Hell Hole itself. Don't let the sunny weather of Sea Haven fool you, Hell Hole is one spectacular, gripping ride." 
                    -Louise Ure, Shamus Award-winning author of  The Fault Tree "You stand inside a circular chamber with a dozen other sadomasochists, when suddenly, the chamber starts spinning as the floor drops out. Before you know it, the centrifugal force has you pinned to the wall like a sock during the spin cycle of a washing machine. Dare to throw up and the centrifugal force glues your spew to your body.
When the nightmare finally ends, you agree to the ride operator's offer of a second ride at half price."
   —Mitch Lemus from Coney Island, Brooklyn's Playland By The Sea 


"Like its three predecessors, this one is narrated breezily by the cynical Boyle, and Grabenstein again shows his intimate knowledge of Jersey shore towns... But this series offers far more than a beach-book romp; HELL HOLE is taut  and satisfying crime fiction."
   —Booklist 

"[E]ntertaining... As ever, the fun derives chiefly from the comic byplay between Danny, who's young, inexperienced and interested in girls and beer, and Ceepak, a straight-shooter who speaks like a robot and adheres to a strict moral code...even the grumpiest won't be able to resist the occasional smile."
   —Publishers Weekly 

"A solid entry in the Ceepak series. Grabenstein... has a great ear for dialogue..."
   —Kirkus Reviews 

"Required Reading... perhaps the perfect nexus of war, politics and beachside bravado..."
   —New York Post 

"Hell Hole... is every bit as wonderful as the previous books....Grabenstein once again kept me up late with a thrilling novel full of twists and turns. The pacing in these books is perfect and Grabenstein really knows how to grab the reader's attention and run with it. It this book was music I would have the volume all the way up."
   —Jon Jordan, Crimespree Magazine 

"The wars in the Gulf and Bosnia have made a new generation acutely aware of soldiers' heroism. But, as Chris Grabenstein shows in his highly entertaining HELL HOLE, heroism can be co-opted by politicians and any coward can pretend to be brave.   The serious, by-the-book John Ceepak is a real hero who helped save lives and was honored for his bravery during his tour as a military police officer. Now he's a regular cop, serving in the resort town of Sea Haven, N.J., with his younger partner, the wise-cracking Danny Boyle. The two don't believe a young corporal, fresh from the Iraqi battlefield, committed suicide in a rest stop. Yet the soldier's squad, who are in a party-hearty mood at a local beach house, and a pompous senator are anxious to wrap up the investigation. Classified information, a band of dumb thieves, a drug dealer and a soldier who brags too much about his heroics provide a trail.   Grabenstein excels again at weaving a serious plot about people traumatized by violence with a sometimes light approach and well-placed humor. HELL HOLE —named after an amusement park ride, like his other novels—moves at a brisk pace as Grabenstein also dissects two lousy fathers and the bonds formed by soldiers.  The relationship between John and Danny, how each grows and learns from each other, continues to be the heart of Grabenstein's four novels.  It's not officially the summer without a visit to the New Jersey shore with Grabenstein."
   —Oline H. Cogdill, South Florida Sun-Sentinel

"Grabenstein has the same easy, deft touch, a gift for dialogue and the throw away line that makes you laugh when you are about a paragraph further down the page. He also has a way with a plot...There's a lot of other good material here about politics, the Patriot act, fathers and sons, loyalty and just straight up investigative police work that make this not just a rocket powered, but a textured, read. Grabenstein's prose may be rather straightforward but he relies on the New Jersey poet laureate, Bruce Springsteen, whenever he needs a shot of poetry. Humor, a good police story, and Bruce. To me, this is pretty much a perfect summer read."
   —Robin Agnew, Aunt Agatha's Mystery Bookstore, Ann Arbor

"This is the darkest of the Ceepak mysteries, the most complicated, and the best. HELL HOLE is a complex story, revealing not only how much Danny has changed, but how much it takes for Ceepak to be the man he has become. Grabenstein continues to develop, writing darker, more ambitious stories.
He hits his stride with HELL HOLE, a dark crime story of politics,  drugs, and family."
   —Lesa Holstine, Lesa's Book Critiques 

"Chris Grabenstein has done the impossible: he's created a mythic character who could plausibly walk among us. John Ceepak is what every police officer should be, and Danny Boyle grows with each book. HELL HOLE is typical Grabenstein, which is to say it hooks you with the first sentence and never lets go. I can't wait for the next one,
and the next, and the next..."
   —Jeff Cohen, author of Some Like It Hot Buttered 

"Chris Grabenstein has raised the stakes in HELL HOLE, the latest offering in the Ceepak mystery series. All the reasons I fell in love with the series are still there: Danny is still the Candide-like character through whom we see the honorable, lie-hating John Ceepak, the writing is still as smooth as glass and as honest as a boy scout, the dialogue still rings as true as a dinner bell. But in HELL HOLE, Grabenstein has taken it to a whole new level. Like the boardwalk ride he describes, he drops the bottom out of what we think we know, and gives us a story that's as dark and mesmerizing as the HELL HOLE itself. Don't let the sunny weather of Sea Haven fool you, HELL HOLE is one spectacular, gripping ride."
   —Louise Ure, Shamus Award-winning author of The Fault Tree 

"Dying is easy, comedy is hard. Chris Grabenstein manages to do both so deftly in this utterly enjoyable series it's impossible not to cry, Bravo!"
   —New York Times Bestselling author Ted Bell 
or
Not Currently Available for Direct Purchase