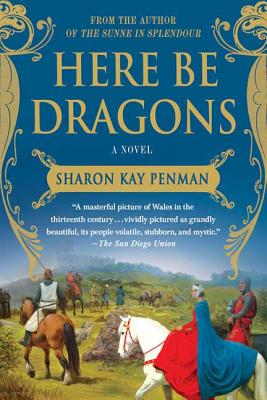 Here Be Dragons (Paperback)
Griffin, 9780312382452, 704pp.
Publication Date: May 27, 2008
Description
Thirteenth-century Wales is a divided country, ever at the mercy of England's ruthless, power-hungry King John. Llewelyn, Prince of North Wales, secures an uneasy truce by marrying the English king's beloved illegitimate daughter, Joanna, who slowly grows to love her charismatic and courageous husband. But as John's attentions turn again and again to subduing Wales---and Llewelyn---Joanna must decide where her love and loyalties truly lie.
The turbulent clashes of two disparate worlds and the destinies of the individuals caught between them spring to life in this magnificent novel of power and passion, loyalty and lies. The book that began the trilogy that includes "Falls the Shadow" and "The Reckoning, " "Here Be Dragons" brings thirteenth-century England, France, and Wales to tangled, tempestuous life.
About the Author
Sharon Kay Penman is the author of six critically acclaimed historical novels and four medieval mysteries, one of which was a finalist for an Edgar Award for Best First Mystery from the Mystery Writers of America.
Praise For Here Be Dragons…
"A masterful picture of Wales in the thirteenth century . . . vividly pictured as grandly beautiful, its people volatile, stubborn, and mystic." ---The San Diego Union
"There is everything in Here Be Dragons but dragons: princesses held captive in stone towers, bloody wars, princes scheming to dethrone their own brothers, castles under siege, maidens in distress, power struggles for half of civilization, rampant infidelity, lusting, mead guzzling, wine drinking, love affairs that topple kingdoms---how did England survive the thirteenth century? . . . History and fiction bound up together in historical novels have always had their own uneasy alliance. . . . Penman deftly makes the mesh work." ---The Washington Post Book World
"Remarkable. . . . Her writing is faultless, deftly interweaving the threads of the various story lines into a glowing, living tapestry. . . . This is storytelling at its finest." ---United Press International
"With a fidelity to historical detail, a deep understanding of the period, a lucid, felicitous prose style, a sensitivity to nuances of character, and a sure sense of drama, the new novel by the author of The Sunne in Splendour is an engrossing tale." ---Publishers Weekly
Advertisement