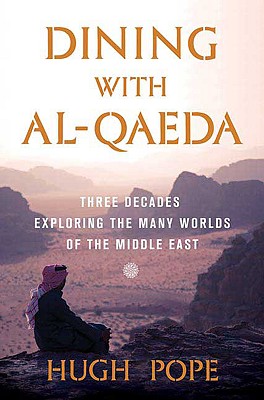 Dining with al-Qaeda: Three Decades Exploring the Many Worlds of the Middle East (Hardcover)
Three Decades Exploring the Many Worlds of the Middle East
Thomas Dunne Books, 9780312383138, 352pp.
Publication Date: March 16, 2010
* Individual store prices may vary.
or
Not Currently Available for Direct Purchase
Description
Following in the footsteps of Sir Richard Burton and Lawrence of Arabia, Hugh Pope presents his modern-day explorations, mined from more than three decades, of the politics, religion, and aspirations of Muslim peoples to show how the Middle East is much more than a monolithic "Islamic World." An Oxford-educated scholar of the Middle East and acclaimed former foreign correspondent for "The Wall Street Journal," Pope has lived and worked in two dozen countries throughout the region. In eighteen revealing chapters, he delves into the amazingly varied cultures ranging from the south of Sudan to Afghanistan and from Islamabad to Istanbul. His probing and often perilous journeys--at one point during a meeting with an al-Qaeda missionary, Pope is forced to quote Koranic verse to argue against his own murder--provide an eye-opening look at diverse societies often misportrayed by superficial reporting and "why they hate us" politics. With intimate and personal anecdotes arising out of experiences from war fronts to bazaars to the palaces of kings, Pope weaves a rich narrative that embraces art, food, poetry, customs, and the competing histories of the Middle East. Merging the traditions of the classics "Balkan Ghosts "and "From Beirut to Jerusalem," "Dining with al-Qaeda "illuminates an infintely complex part of the world. With U.S. foreign policy aiming to engage more construvtively with Muslim nations, this lyrical book of adventures collects some of the truly important untold stories of our times.
About the Author
HUGH POPE is currently based in Istanbul with the International Crisis Group. Previously he was a staff correspondent for "The Wall Street Journal "and has been engaged in the broader Middle East for three decades. He has lectured widely on the Turkic world, including at the Smithsonian Institution in Washington, D.C. Pope is the author of "Sons of the Conquerors," one of "The Economist"'s Best Books of the Year, and "Turkey Unveiled," a "New York Times "Notable Book.
Praise For Dining with al-Qaeda: Three Decades Exploring the Many Worlds of the Middle East…
"Pope shares deeply engaged dispatches from the Middle East hot spots he visited during his long career. The author is a charming writer [and] offers intimate glimpses inside the Arab world.... An enjoyable chronicle of a rich life's work."—Kirkus Reviews "Pope, formerly the Middle East correspondent for the Wall Street Journal, here recounts a career's worth of regional reportage that began in the early 1980s, an arc that follows his pursuit of interesting stories and interviews, as with an Islamic militant who debates with Pope about whether to kill him. Danger is often present in Pope's stories, and his daring stories reflect his determination to break out from templates in which Middle East news, in his view, is presented in America."—Booklist "Pleasantly self-deprecating, he acknowledges that he is not always right. But he usually is."—The Economist "Hugh Pope goes behind the headlines to probe the world's most volatile and misunderstood region. Balanced, deeply informed, and darkly fun, Dining with al-Qaeda is a must-read for Middle East junkies." —Tony Horwitz, bestselling author of A Voyage Long and Strange and Baghdad Without a Map
"A very good book, and one that raises essential questions about journalism and our understanding of the world." —Mariane Pearl, author of A Mighty Heart: The Brave Life and Death of My Husband, Danny Pearl
"Hugh Pope's deftly told account of 30 years in the Middle East recounts the region's troubles with bracing honesty and its charms with genuine affection. Often a page-turner, populated by a colorful cast of deeply human characters,
Dining with al-Qaeda
goes beyond the day's headlines to offer a nuanced and compelling portrait of the region. Pope brims with remarkably brave and crucial insight into the Western media's coverage of the Middle East."—Azadeh Moaveni, author of
Lipstick Jihad
and
Honeymoon in Tehran
"The tales of [Pope's] wanderings from Sudan and Egypt to Pakistan are not only fascinating, but they serve also to illuminate Middle Eastern countries in a way that scholarly books often fail to do. His reflections sharply narrow the gap between popular Western perceptions of the region propagated by our media and many politicians and the more complex reality. Freed of the heavy hand of his daily editors on what the public wants to read, Pope has produced a highly informative, provocative, and enjoyable work." —Morton Abramowitz, former U.S. ambassador and currently Senior Fellow at The Century Foundation
"This rich personal history of a senior foreign correspondent is a must-read, written by one of the very few real Middle East specialists, a man who speaks the languages, knows the history, understands the people, and yet ended up after thirty years abandoning daily journalism. The book stands as a monument to what the so-called golden age of newspaper reporting should have been but rarely was." —Johnathan Randal, veteran Washington Post foreign correspondent and author of Osama: The Making of a Terrorist
Advertisement