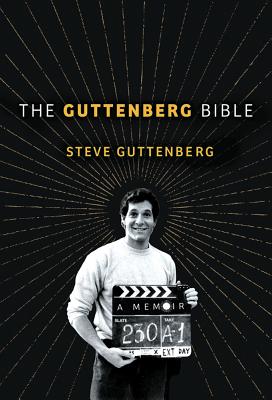 The Guttenberg Bible: A Memoir (Hardcover)
A Memoir
Thomas Dunne Books, 9780312383459, 336pp.
Publication Date: May 8, 2012
Description
"Forget being an actor. You don't have the look, you don't have the talent, and your name is ridiculous. You are the last guy I would ever pick to be a movie star."
This was the first piece of advice Steve Guttenberg ever received from an agent. Like many other times in his life, he didn't listen.
In this honest, charming memoir, Guttenberg tells the unique story of his first decade in Hollywood, as he went from being a complete unknown to starring in some of the most successful blockbusters of all time. He spent his early days sneaking onto the Paramount lot and meeting more actors and casting agents than most aspiring actors ever would. Even before the hit "Police"" Academy"---which his manager said would be a flop---he had already worked with such luminaries as Lord Laurence Olivier, Richard Widmark, and Gregory Peck. Later he shared the screen with actors such as Mickey Rourke and Sharon Stone long before they became household names.
Guttenberg has lived through the addictive pull of show business and worldwide celebrity (you're no one until you have a stalker, he learns). With a clear-eyed appreciation for the one-of-a-kind experiences that the celebrity lifestyle has to offer, he knew that his family would keep him grounded throughout it all. And his self-awareness and sense of humor about the ups and downs of fame make "The Guttenberg Bible" one of the most candid Hollywood stories to date.
About the Author
STEVE GUTTENBERG has starred in more than fifty films over the course of his career, including three successful series: Police Academy, Three Men and a Baby, and Cocoon. He has also appeared in such acclaimed work as Diner, The Boys from Brazil, and The Bedroom Window. On television, his work includes The Day After, To Race the Wind, and Miracle on Ice, as well as Gangs and Love Off Limits, which he directed. As a feature filmmaker, he adapted and directed P.S., Your Cat Is Dead. He produced and starred in the indie film A Novel Romance, which won best feature at the New York International Independent Film and Video Festival.His theater credits include his Broadway debut in 1984, Prelude to a Kiss, The Boys Next Door in London's the West End, and Furthest from the Sun at the Juene Lune Theatre in Minneapolis. He recently appeared on Broadway in Relatively Speaking, a collection of three one-act comedies, starring in Woody Allen's "Honeymoon Motel."
Praise For The Guttenberg Bible: A Memoir…
"Steve Guttenberg has written a wonderfully funny memoir of his coming-of-age in Hollywood. The Guttenberg Bible is an on-the-money account of what an actor's life is really like."
—MARLO THOMAS, New York Times-bestselling author of Growing Up Laughing
"I first met Steve Guttenberg when he was an up-and-coming young actor on the set of Diner. Now, I'm glad to read his terrific memoir of his career's early days, and the struggles and surprises that come with making your way in show business."
—JERRY WEINTRAUB, New York Times-bestselling author of When I Stop Talking, You'll Know I'm Dead
"The Guttenberg Bible is better than the original! More compelling reading anyway. Steve's story of his journey through Hollywood is for actors what Adventures in the Screen Trade is for writers. An honest, humorous and instructive account of how to navigate thru this crazy town we call Hollywood." 
—WOODY HARRELSON
"From his first scene on I knew Steve Guttenberg would be a winner. He's proven it on the screen and now he's doing it as an author."
—ROBERT EVANS, author of The Kid Stays in the Picture
"It's impossible to stop reading."
—Publishers Weekly
"[Guttenberg] looks back on his first 10 years in Hollywood as a time of magical dreams and sobering realities. … Aspiring actors will surely gain keen insight into the challenges that may await them (if they're lucky), while movie fans will be pleasantly assured that their faith in the dream factory's ability to inspire is still warranted. An insider's charming look at what it's really like to be a Hollywood star."
—Kirkus Reviews
"The Hollywood memoir genre is inherently dicey, but this one is a winner. Guttenberg has a fetching style and is a good storyteller … Anyone who can tell funny personal stories about having worked with both Colonel Sanders and Sir Laurence Olivier is aces."
—Library Journal
"Guttenberg retains a wide-eyed outsider's wonder at Hollywood, while offering an insider's sharp analysis of the tough business of acting.  … An A memoir."
—Hollywood Reporter
"In this highly readable and candid memoir, Guttenberg reveals the twists and turns of his career."
—Tucson Citizen
Advertisement