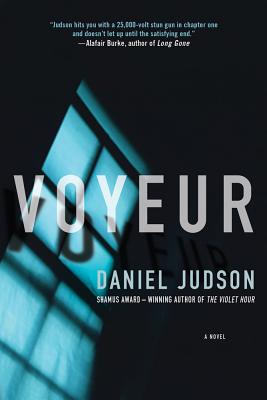 Voyeur (Paperback)
Minotaur Books, 9780312383596, 262pp.
Publication Date: December 20, 2011
Description
Remer was an effective Manhattan P.I. until one of his targets found a nasty way to force him into an early retirement. Since then, he has been living an anonymous life, running a liquor store in Southampton and doing his best to stay in the shadows without ties to anyone or anything. Then a voice from his past reaches out for help, and he agrees to work one last case a missing person in order to escape the threat he's lived under for six years.
Trouble is, even if he finds Mia Ferrara, even if she's safe, that might not be enough.
Shamus Award winner Daniel Judson's irresistible noir styling and impeccably drawn heroes that are so beset and so human make "Voyeur" a Shamus Award finalist his most searing thriller yet.
About the Author
DANIEL JUDSON, a Shamus Award winner and a four-time finalist, is the author of five previous novels, most recently The Violet Hour. He attended Southampton College, and his time in the Hamptons (particularly the parts that don't make the society pages) was the inspiration for the setting and characters in Voyeur. He now lives in Connecticut.
Praise For Voyeur…
Praise for Voyeur

"Judson hits you with a 25,000 volt stun gun in Chapter One and doesn't let up until the satisfying end."
--Alafair Burke, author of Long Gone

"An intriguing idea, a strong plot, a sharp central character and a photogenic setting - the Hamptons…. We're there, particularly when it turns out that it's hard to tell who's scamming whom…"
--Newsday

"Darkness. Cold. Bitter wind. These are the backdrops—they're almost characters—in this grim tale of betrayal, revenge, and pain… Noir fans will find this novel a bracing jolt of icy air."
--Booklist
Advertisement