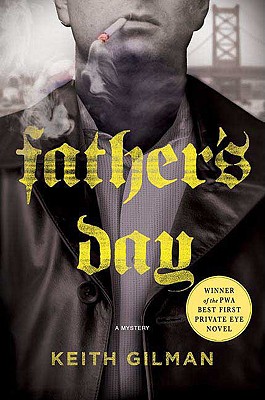 Father's Day (Hardcover)
A Mystery
Minotaur Books, 9780312383657, 272pp.
Publication Date: April 28, 2009
Other Editions of This Title:
Paperback (4/15/2009)
* Individual store prices may vary.
Description
Keith Gilman's provocative debut is a dark and atmospheric tale of an ex-cop from Philadelphia who must face old ghosts.
Louis Kline, PI, is asked to track down the missing teenage daughter of an old friend. In doing so, he uncovers truths about the alleged suicide of his friend, a fellow officer with the Philadelphia Police Department. They shared accusations that ended both their careers, and a love for the same woman. As Louis further investigates, he comes to understand the tortured life of the girl he's trying to find, and some truths about himself.
Keith Gilman knows how cops think and he pulls back the curtain on a disturbing vision of a decaying urban world, haunted by shadows of deceit and death. Father's Day, a novel of great psychological depth and stark visual imagery, is a terrifying exploration of what lies at the heart of our deepest fears.
About the Author
Keith Gilman has been a cop in the Philadelphia area for over fifteen years. He lives in Clarks Summit, Pennsylvania.
Praise For Father's Day: A Mystery…
"Narrated in a wise-old-guy tone that is matched by Lou's knack for getting under people's skin, this debut takes us on a roller-coaster ride of surprises. This winner of the Minotaur Books/PWA Best First Private Eye Novel competition is essential for fans of the genre."--Library Journal "Gilman's debut keeps the tension strong while showing that Philadelphia isn't just about brotherly love."--Kirkus Reviews
"Gilman has a cop's eye for detail and a hardboiled humor that can't be faked. A palpable evil fills the pages of Father's Day that is both terrifying and relentless. Gilman writes sharply. His Philadelphia is worth a visit."—William Lashner, New York Times bestselling author of Blood and Bone
"The best fiction has this feeling that someone's just leaned close to whisper in our ear: 'I've something important to tell you.' Keith Gilman's debut novel has, and sustains, that quality from the first page. You know right away that you're in the hands of a natural and very fine storyteller. Authenticity, voice, the sense of lives beyond the page, all those things we crave as readers and for which we work so hard as writers, tossing the bones, hoping the magic will work--all are solidly, soundly in place."—James Sallis, author of Drive and the Lew Griffin series
or
Not Currently Available for Direct Purchase