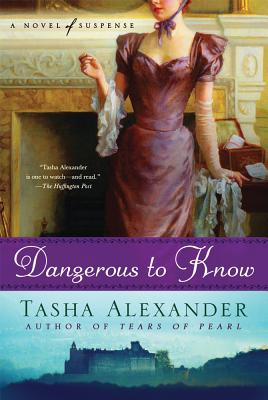 Dangerous to Know
A Novel of Suspense (Lady Emily Mysteries #5)
Paperback

* Individual store prices may vary.
Other Editions of This Title:
Hardcover (10/26/2010)
Description
Set in the lush countryside of Normandy, France, this new novel of suspense featuring Lady Emily Hargreaves is filled with intrigue, romance, mysterious deaths, and madness.

Returning from her honeymoon with Colin Hargreaves and a near brush with death in Constantinople, Lady Emily convalesces at her mother-in-law's beautiful estate in Normandy. But the calm she so desperately seeks is shattered when, out riding a horse, she comes upon the body of a young woman who has been brutally murdered. The girl's wounds are identical to those inflicted on the victims of Jack the Ripper, who has wreaked havoc across the channel in London. Emily feels a connection to the young woman and is determined to bring the killer to justice.

Pursuing a trail of clues and victims to the beautiful medieval city of Rouen and a crumbling château in the country, Emily begins to worry about her own sanity: She hears the cries of a little girl she cannot find and discovers blue ribbons left in the child's wake. As Emily is forced to match wits with a brilliant and manipulative killer, only her courage, keen instincts, and formidable will to win can help her escape becoming his next victim.
Praise For Dangerous to Know: A Novel of Suspense (Lady Emily Mysteries #5)…
"Author Tasha Alexander is one to watch -- and read. The continuing adventures of her Victorian heroine and increasingly intrepid sleuth Lady Emily Ashton commenced in 2005 with And Only to Deceive, and they defy convenient categorization. They're historical thrillers, yes, and thrilling romances, and romantic mysteries. Mix in generous amounts of Victorian cozy, travelogue, epistolary puzzle, adventure yarn, societal exposé and impeccably-detailed period drama, and you're getting close. . . . Lady Emily's evolution is fascinating, bookended by restrictive mores and worldly ambitions, filled with dashing suitors, amusing scoundrels and diabolical fiends, plus ladies dear and trustworthy (and alarmingly otherwise) . . . [Alexander] knows how to construct a compelling plot; but despite her cliffhanger climaxes and witty repartee, there's a depth of sensitivity which sets her apart." —The Huffington Post

"Inside this suspenseful, gothic mystery, Alexander paints a perfectly poetic Victorian landscape and takes readers into an old world re-imagined. . . . Alexander's love for the Victorian era elevates a captivating mystery into an unforgettable tale. Her extensive research of the era, combined with compelling characters, an irresistible heroine and a clever love story will translate effortlessly into minds of readers in the modern world. With wisps of darkness, shadows of a ghost story and embers of heightened Freudian themes, Dangerous to Know is the perfect novel to curl up with and chase away the world." —Examiner.com

"Beautiful, headstrong and romantic Lady Emily is back. . . . Tasha Alexander's clever dialogue, along with her convincing period detail, brings life to her story and showcases the breathtaking beauty of the Normandy countryside. Considering its incomparable setting and irresistible characters, Lady Emily's fan club is sure to grow by leaps and bounds with Dangerous to Know." —Bookreporter.com

"Engaging . . . it's quite creepy (in a good way) and suspenseful." —RT Book Reviews
Minotaur Books, 9780312383817, 336pp.
Publication Date: September 27, 2011
About the Author
Tasha Alexander is the author of the New York Times bestselling Lady Emily mystery series (Tears of Pearl, Dangerous to Know, and A Crimson Warning). The daughter of two philosophy professors, she studied English Literature and Medieval History at the University of Notre Dame. She and her husband, novelist Andrew Grant, live on a ranch in southeastern Wyoming.