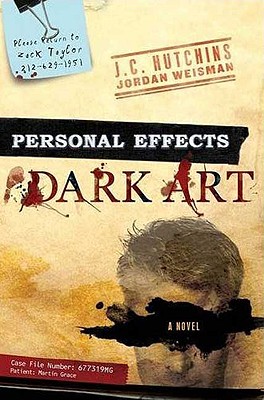 Personal Effects: Dark Art (Hardcover)
Dark Art
St. Martin's Griffin, 9780312383824, 320pp.
Publication Date: June 9, 2009
* Individual store prices may vary.
or
Not Currently Available for Direct Purchase
Description
Want to try it yourself? Call the phone number shown on book's cover: 212-629-1951 and listen to the voicemail message for main character Zach Taylor. Personal Effects follows the extensive notes of therapist Zach Taylor's investigation into the life and madness of Martin Grace, an accused serial killer who claims to have foreseen, but not caused, his victims' deaths. Zach's investigations start with interviews and art sessions, but then take him far from the hospital grounds—and often very far from the reality that we know.
The items among Grace's personal effects are the keys to understanding his haunted past, and finding the terrifying truth Grace hoped to keep buried: • Call the phone numbers: you'll get a character's voicemail. • Google the characters and institutions in the text: you'll find real websites • Examine the art and other printed artifacts included inside the cover: if you pay attention, you'll find more information than the characters themselves discover
Personal Effects
, the ultimate in voyeuristic storytelling, represents a revolutionary step forward in changing the way people interact with novels.
About the Author
J.C. HUTCHINS created the podcast trilogy "7th Son," listened to by over 40,000 people with over a million total downloads. He lives in Deerfield Beach, Florida. To market Steven Spielgberg's "A.I., "JORDAN WEISMAN conceived of a murder mystery played out across websites and through email messages, faxes, and voicemail boxes. The game had over three million participants and spawned the "alternate reality game" craze. In 2006, Weisman created "Cathy's Book," a novel accompanied by receipts, photos, and other clues leading to numbers and websites that took readers into a groundbreaking multimedia experience. Weisman lives in Bellevue, Washington.
Praise For Personal Effects: Dark Art…
"Hutchins, author of the audiobook podcast trilogy 7th Son, makes his print debut with the stellar first of an interactive supernatural thriller series. Zach Taylor, an art therapist, must evaluate Martin Grace, a blind audio engineer suspected of a dozen homicides, to determine whether Martin is mentally competent to stand trial for the murder of hip-hop singer Tanya Gold, whose body was "torn literally limb from limb." Martin claims he's an "unwitting psychic sniper," fore-seeing crimes actually committed by a Russian demon or "Dark Man." One of his possible earlier victims was Martin's psychiatrist, Sophronia Poole, the girlfriend of Zack's dad, William V. Taylor, the New York City DA seeking to convict Martin. Weisman, an alternative reality game whiz, is responsible for the items inside the book's front pocket—a psychiatric report, family photos, death and birth certificates, etc.—that allow the reader to follow a multimedia trail of clues." --Starred Publishers Weekly (June)
"Start with an eerie setting. Add equal parts House, CSI, andThe X-Files. Place yourself at the side of an accidental detective embroiled in a complex web of madness, revenge, betrayal, and secret identities. Then light some dynamite under the box most novels live in and watch the pieces land outside the pages—in art, on websites, in e-mails, and in phone numbers that give you answers when you call. This is the future of storytelling, and it's a thrilling ride." --Anthony E. Zuiker, Creator/Executive Producer of the CSI: Franchise
"Jordan Weisman is once again the vanguard of that new form of narrative—Transmedia Storytelling. The enigmatic tapestry of characters and events slowly slips off the page, taking the reader with it into a mosaic of facts and clues that compel us to know the truth behind the murders of the accused: Martin Grace. So compelling is the journey between these precisely crafted symbiotic worlds, the reader may scarcely recognize their own transformation from passive to active, as they pick up where the text subsides and become the protagonist." --Gore Verbinski, Director
"The world may be black to Martin Grace, but he can peer deep into your soul, find where your fears slither, and make them sway like a snake charmer. Personal Effects is a rocking genre-mash that mixes mystery with psychodrama and serves it up in a high-bandwidth torrent of terror." --Scott Sigler, author of Infected and the hit podcast novel Earthcore
"J.C. Hutchins delivers another mind-ripping story that shakes the foundations of reality. In the creation of Martin Grace he offers a richly complicated catalyst for events that keeps writhing the reader on a deadly twisted hook that won't let go. Don't worry about the lap bar. It won't save you from screaming on this ride." --Patrick Lussier, director of White Noise 2, Dracula 2000, and editor of the Scream trilogy, Halloween: H20, The Eye, and Red Eye
"Personal Effects: Dark Art was impossible to put down and almost as hard to pin down. A twisted descent into the mind of a serial killer ... a supernatural thriller about a frightening and unfathomable evil that's as old as time ... a horrific tale of dark, unearthly secrets that bind ... and kill. "Zach Taylor is assigned to the mysterious case of psychiatric patient Martin Grace -- a suspected serial killer with an airtight alibi for the murder he's accused of committing. Zach's search for the truth leads him, and the people he loves, into a terrifying world of dark secrets an ancient evil that threatens to consume them all. Terrifying, steeped in dread and populated with vibrant and complex characters, Personal Effects: Dark Art plunges you into a hidden world of supernatural intrigue. It's a journey you won't soon forget." --Jeffrey Reddick, writer of Final Destination
Coverage from NPR
Advertisement