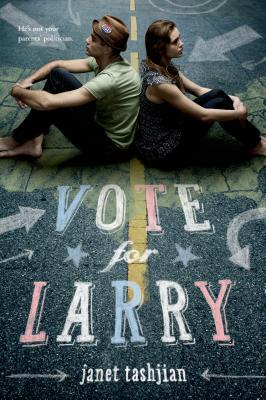 Vote for Larry (Paperback)
Square Fish, 9780312384463, 229pp.
Publication Date: September 2, 2008
* Individual store prices may vary.
Description
After becoming what he so clearly and strongly resisted--a consumer--Josh Swensen finds himself in a paranoid state of no return. That is, until he's kidnapped and coaxed into resurfacing as Larry, his old activist persona. Before long, Larry is back on the scene with much more on his mind than anti-consumerism--this time, he wants to affect change in government. And Larry isn't taking a conventional path or starting small in local government. He just doesn't do things halfway. But can he really become an eighteen-year-old president of the United States? Even if he can, is he sure he really wants to?
About the Author
Janet Tashjian is the author of acclaimed books for young adults, including The Gospel According to Larry, Fault Line, Multiple Choice and My Life as a Book. Disney adapted Tru Confessions into a television movie starring Clara Bryant and Shia LaBeouf. Tashjian studied at the University of Rhode Island and Emerson College. She lives in Needham, Massachusetts, with her family.
Praise For Vote for Larry…
"[A] clever, inspiring sequel . . . Josh's narration moves swiftly, and the topical yet universal themes make this book even more compelling than the first."—Publishers Weekly, Starred Review and Editor's Pick
"Once again, Tashjian manages to take a fairly unbelievable premise and make it seem more than fairly believable. The fast-paced story and Josh's witty narration (he still loves footnotes) will keep readers hooked—and if they get out and vote when they're eighteen, Larry will have won."—The Horn Book Magazine
"Vote for Larry is a crash course in the rough and tumble world of national politics and teen readers will get a taste of just what it takes in idealism and courage to achieve such goals."—Bookpage
"Hopefully Josh will return, though it is difficult to imagine what he could do after the feats he performs in this book. Enjoyable and motivational!"—teenreads.com
"Josh has a fresh, intelligent voice, filled with common sense, passion, and conviction . . . A solid and timely work that will make readers laugh, but more important, will make them think."—Voice of Youth Advocates Time Out New York Kids Pick of the Literature 2004
Lois Lowry's Top Five Books for Summer
Nominated for ALA Best Books for Young Adults 2004
On "May We Recommend" Booksense National Bestseller List
On Spring/Summer Book Sense Children's Pick List