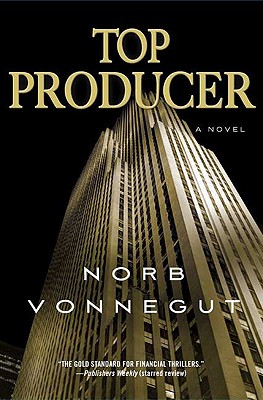 Top Producer
Hardcover

* Individual store prices may vary.
Other Editions of This Title:
Digital Audiobook (9/14/2009)
Compact Disc (9/15/2009)
MP3 CD (9/15/2009)
Compact Disc (9/1/2009)
Compact Disc (9/1/2009)
MP3 CD (9/1/2009)
Mass Market Paperbound (12/28/2010)
Description
In a world that moves as fast as finance does, top producers have to think three steps ahead and make snap decisions. Theirs is a blurred version of reality, one that conceals moves as much as it rewards the bold ones. All too easily, scams can be disguised as success; plotting can be mistaken for killer instincts. And as Grove O'Rourke finds out, "Nothing obscures vulnerability like success. Nothing that is, except for friendships."
But this book isn't about stocks and bonds—it's about people. About Grove O'Rourke, top producer at the investment firm of Sachs, Kidder, and Carnegie, and about his best friend, Charlie Kelemen, whose spectacular murder is carried out in front of hundreds of horrified party-goers at the opening of the novel. It's about Charlie's widow, who comes to Grove for help after her husband's death, even though she's hiding a dark secret. And it's about how money—vast sums of money—can cover up even the most glaring imper fections in relationships, and fool everyone. Well, almost everyone. With the ease of someone who has lived in the world of top producers, NorbVonnegut has crafted a sharp, dark thriller that will make you think—and then double-check your investments.
Praise For Top Producer…
Praise for Top Producer

"Norb Vonnegut, who has made a career out of wealth management, pulls off a compelling thriller that centers on the murder of hedge-fund schemer Charlie Kelemen: He's tossed into a public aquarium and munched by sharks…This novel ponders the age-old ramifications of greed, but Vonnegut gives it a fresh, timely twist." –USA Today

"Vonnegut's debut meets the gold standard for financial thrillers as it puts the frenzied, cutthroat world of Wall Street's best stockbrokers (aka the 'top producers') on brilliant display. Ripples from the bizarre murder of Charlie Kelemen, wealthy hedge fund operator, quickly reach his best friend, Grove O'Rourke. A top producer at the boutique investment bank Sachs, Kidder and Carnegie, O'Rourke tries to help Kelemen's widow sort out some financial questions. This process leads him deeper and deeper into a labyrinth of deceit. As fallout from Charlie's death and dealings start to taint O'Rourke, the sharks, inside and outside his own firm, smell blood and begin to circle. O'Rourke won't go down without a fight, and not all the blood in the water will be his. Vonnegut, himself a veteran fund manager, handles the arcane terminology and slang of Wall Street with aplomb, never letting it get in the way of the story." --Publishers Weekly (starred review)

"Though it's hard these days to feel sympathy for investment bankers and stockbrokers, Vonnegut makes his irreverent protagonist someone we can root for as he pursues crooks who use the redemptive language of hedge funds to hide financial malfeasance. A promising debut."
–Library Journal

"Norb Vonnegut's Top Producer begins where Liar's Poker and The Bonfire of the Vanities left off and puts an electrifying spin on the winner-take-all culture of Wall Street. Turn to the first page and plunge into the shark-infested waters of high finance and greed."
--Brent Ghelfi, ITW Award-nominated author of Volk's Game and The Venona Cable

"A timely read as Vonnegut opens the kimono exposing the intricate cause and effect of finance and murder. He shares his well-earned insights and literary acumen in a manner that entices the reader to reach out for the next chapter. A must for all investors wishing to avoid the next Bernie Madoff!"
--Joe Grano, Former CEO UBS/PaineWebber

"Norb Vonnegut makes a sterling debut in Top Producer, a financial thriller extraordinaire that reads like a 2009 version of Tom Wolfe s brilliant Bonfire of the Vanities for a world that has lost its taste for Wall Street excesses….A former wealth manager himself, Vonnegut paints a vivid picture of life lived between million-dollar trades. But he also writes with an aplomb that makes Top Producer a literary reimagining of the film Wall Street where murder, as well as money, never sleeps." --Providence Journal-Bulletin (Rhode Island)
Minotaur Books, 9780312384616, 352pp.
Publication Date: September 15, 2009
About the Author
A NOTE FROM AUTHOR NORB VONNEGUT A funny thing happened during my 60-hour weeks as a wealth advisor. I discovered the joy of writing. For years my partners and I wrote our clients about investment decisions, why we bought this stock or sold that one. I loved the wordplay and believe our letters woke an inner beast. They never quite sated my appetite, though. I longed to write stories about Wall Street's people, the crazy things that percolate through trading floors and broker bullpens. My people, characters that is, hail from the trenches of finance. Brokers. Traders. Sales assistants. There is the occasional CEO, or the bigger than life hedgie. But I am not trying to pluck some legend from the business press and fictionalize that person. My characters find themselves thrust into uncomfortable worlds by forces far beyond their control. Working on Wall Street's front lines prepped me to write this fiction. I was a Managing Director at Silvercrest Asset Management, a money management firm where I had the great fortune to work. I spent the previous 14 years on the "sell-side," industry jargon for brokerages and investment banks, including stints at Morgan Stanley's Private Wealth Management division, Paine Webber, and Chase Manhattan in Melbourne, Australia. Ten of those years were with a white-shoe brokerage, the place where I began writing "Top Producer."
or
Not Currently Available for Direct Purchase