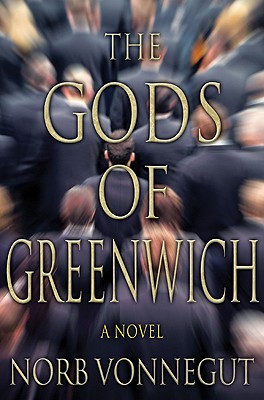 The Gods of Greenwich
Hardcover

* Individual store prices may vary.
Other Editions of This Title:
Digital Audiobook (4/25/2011)
MP3 CD (4/26/2011)
MP3 CD (4/26/2011)
Compact Disc (4/26/2011)
Mass Market Paperbound (1/3/2012)
Compact Disc (4/26/2011)
Compact Disc (4/26/2011)
Description
Forget about Bernie Madoff or Gordon Gekko—there's a new villain on Wall Street…
Norb Vonnegut didn't realize how close he skirted to non-fiction when he was writing his spectacular debut Top Producer. Penned before tumultuous revelations and scandals rocked the financial world in late 2008, Vonnegut's novel depicts, with an insider's solid knowledge, the tricks that the industry's real top producers pull in their frenzied pursuit of billions. Now Vonnegut sets his electrifying follow-up in the high-rolling world of hedge funds, lending his seasoned perspective to a riveting thriller.
Jimmy Cusack is the tough kid from a blue-collar neighborhood who made good on Wall Street. Well, almost. After a sterling start to his career, things have soured. His hedge fund has collapsed. The bank is foreclosing on his upscale condominium. And his wife is two months pregnant. That's the good news. When Cusack takes a "must-have" job with Leeser Capital, a Greenwich fund impervious to the capital market woes, his real troubles begin.
Vonnegut's unique insider's perspective and his intuitive, darkly humorous writing are once again on full display in this fast-talking suspense thriller. A high-stakes poker game of a book, The Gods of Greenwich is a timely and gripping read that will keep you glued to the edge of your seat until the last card is played.
Praise For The Gods of Greenwich…
"Norb Vonnegut offers a gleeful peek at the world of hedge fund moguls in The Gods of Greenwich, a funny, savvy book that can be as absurd as its title." –The New York Times
"The black comedy of life in the fast lanes of high level finance powers a wonderful new thriller by Norb Vonnegut,
The Gods of Greenwich
, set in the poshest reaches of Connecticut and Manhattan... the secret of how Cy "hedges" is the
Gods of Greenwich
plot equivalent of what the callow young lawyer in
The Firm
found out about his too-good-to-be-true Memphis law office — and Vonnegut ratchets up the suspense and the laughs as we are taken deep into "Hedgistan" (i.e. Greenwich)." --
The Connecticut Post
 "The pieces of this plot mesh as smoothly as a well executed trade." --
Bloomberg News
"A riveting thriller… racing relentlessly from the bedrooms of Manhattan to the boardrooms of Connecticut to the banks of Iceland. Bravo!" --Jeffrey Deaver, New York Times bestselling author of Edge
" This is way beyond just being a fast-paced financial thriller.  I've not read such a rich portrayal of downfall through hubris since Tom Wolfe's Bonfire Of The Vanities." –Peter James, internationally bestselling author of Dead Like You
" The Gods of Greenwich is compelling, suspenseful, high-energy, a terrific read!"-- Thomas B. Sawyer, best-selling author of No Place to Run and head writer of Murder, She Wrote
"The Gods of Greenwich is a fast-paced and satisfying locomotive of a financial-based thriller, Dominick Dunne meets Barbarians at the Gate. Vonnegut has opened the vaults of Greenwich's elite, and oh what secrets and schemes pour out!" –Andrew Gross, #1 bestselling James Patterson co-author
"Vonnegut follows his debut, Top Producer, with another invigorating dip into the shark pool of Wall Street's hedge fund industry… Vonnegut, a financial professional himself, not only gets the language and tone of Wall Street right but has an instinctive feel for dialogue and action. Especially enjoyable is the rip-roaring finale at the Bronx Zoo." –Publishers Weekly
"[Vonnegut's] gift for portraying certain social sets positions him as a satirical heir apparent to Louis Auchincloss. " --
National Post
(Canada)
"This novel ponders the age-old ramifications of greed, but Vonnegut gives it a fresh, timely twist." –USA Today on Top Producer
"The gold standard for financial thrillers." –Publishers Weekly (starred review) on Top Producer
"A ripping good yarn." – Raymond Benson, author of several James Bond novels and co-author of Homefront—The Voice of Freedom
"Filled with enough insider info to send the feds to your door." – Hank Phillippi Ryan–Anthony, Macavity and Agatha–winning author of Drive Time
Things go from grim to worse for rising hedge-fund star Jimmy Cusack when his company collapses and the fund that recruits him is targeted for destruction by cutthroat bankers in Iceland and a sheikh in Qatar…. The novel moves at… a fast clip, spilling goods on recession-era wheelers and dealers as it goes." --Kirkus
"The Gods of Greenwich is better than most financial thrillers… a page-turner plot. (Serial murders plus the Great Crash of 2008.)… The cast is an unusually motley and enjoyable crew." –The New York Journal of Books
"Vonnegut follows up his debut (Top Producer) with a first-rate thriller set in the world of hedge fund managers during the 2008 financial meltdown…. Vonnegut's skill at creating characters at risk will make even less wealthy readers root for Cusack to survive his financial debacle with millions intact. This thriller will appeal to fans of Joseph Finder and might serve as a cautionary tale to anyone who envies the seemingly idyllic life of the superrich. But don't we all like to read about them?" –Library Journal
Minotaur Books, 9780312384692, 336pp.
Publication Date: April 26, 2011
About the Author
NORB VONNEGUT writes thrillers and non-fiction commentary (The Huffington Post, Acrimoney) about Wall Street behind closed doors. He has appeared on Bloomberg News as well as the Laura Ingraham and Judith Regan shows. "Top Producer, " his debut novel, was a featured pick of "Today, SmartMoney" and is published in eight languages. Norb built his wealth-management career with Morgan Stanley and other Wall Street institutions. A Harvard college and Harvard Business graduate, he splits his time between New York and Rhode Island. Visit norbvonnegut.com or Acrimoney.com to learn more.
or
Not Currently Available for Direct Purchase