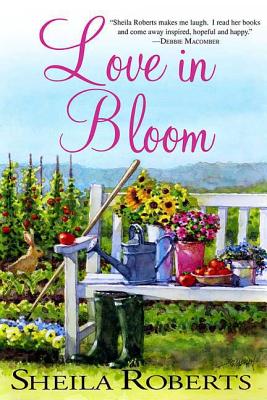 Love in Bloom (Paperback)
Griffin, 9780312384814, 320pp.
Publication Date: March 31, 2009
Description
Hope Walker survived early breast cancer at just thirty-years-old, but a mastectomy left her with a lot of scarring and some serious fears about dating. Hope owns Changing Seasons, Heart Lake's most popular flower shop. When it comes to love and relationships, she's able to work magic through her expert flower arranging for everyone but herself. Then one day a handsome contractor starts coming into her shop, but Hope knows he'd rather have a whole woman than someone like her.
When Hope stakes a plot of ground at Heart Lake's community garden, she finds that a woman can grow all sorts of things there: flowers, herbs, vegetables and even friendship. As she gets to know the two women who share neighboring plots, they discover that they can learn a lot from each other not just about gardening, but about life. And Hope realizes that in order to live life to the fullest, sometimes you have to take a chance on love.
About the Author
Sheila Roberts is the author of On Strike for Christmas, Small Change, The Snow Globe, Bikini Season, and other bestselling books. Before settling into her writing life, Roberts did lots of other things, including owning a singing telegram company and playing in a band. Now, when she's not speaking to women's groups or at conferences, she can be found writing about the things near and dear to women's hearts: family, friends, and chocolate. She lives on a lake in Washington.
Praise For Love in Bloom…
"A sweet tale of unexpected friendships blossoming in a community garden, this well-written story will have readers sympathizing with the characters' plights -- and itching to get their fingers digging in the dirt!"--RT Book Reviews "Gardening, girl talk, and a gorgeous guy underpin this tale of what constitutes beauty and one's true self."--Library Journal "A congenial cast of subsidiary characters ... meet Hope at a community garden plot and share their stories there. Roberts effectively knits these troubled but kindly characters together in a story line that throws the reader a few unexpected twists."--The Seattle Times "Love in Bloom is a wonderful story with characters so real and defined I feel like I am personally acquainted with them. ... There is humor and emotion in large quantities in this fantastic book that is next to impossible to put down. Kudos and a large bouquet of flowers to Sheila Roberts for giving us one of the best books of the year."--Fresh Fiction "A great read."--BookLoons
Advertisement