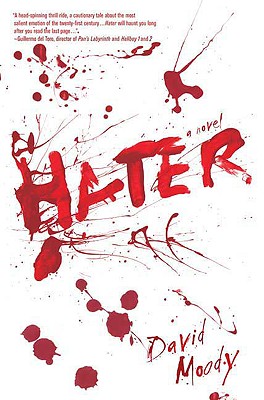 Hater (Hardcover)
Thomas Dunne Books, 9780312384838, 281pp.
Publication Date: February 17, 2009
Other Editions of This Title:
Paperback (4/13/2010)
Compact Disc (8/1/2009)
Pre-Recorded Audio Player (2/1/2010)
MP3 CD (8/1/2009)
Compact Disc (3/15/2012)
* Individual store prices may vary.
Description
Soon to be a major motion picture produced by Guillermo del Toro and directed by J.A. Bayona
REMAIN CALM DO NOT PANIC TAKE SHELTER WAIT FOR FURTHER INSTRUCTIONS THE SITUATION IS UNDER CONTROL Society is rocked by a sudden increase in the number of violent assaults on individuals. Christened 'Haters' by the media, the attackers strike without warning, killing all who cross their path. The assaults are brutal, remorseless and extreme: within seconds, normally rational, self-controlled people become frenzied, vicious killers. There are no apparent links as a hundred random attacks become a thousand, then hundreds of thousands. Everyone, irrespective of gender, age, race or any other difference, has the potential to become a victim - or a Hater. People are afraid to go to work, afraid to leave their homes and, increasingly, afraid that at any moment their friends, even their closest family, could turn on them with ultra violent intent. Waking up each morning, no matter how well defended, everyone must now consider the fact that by the end of the day, they might be dead. Or perhaps worse, become a killer themselves. As the status quo shifts, ATTACK FIRST, ASK QUESTIONS LATER becomes the order of the day... only, the answers might be much different than what you expect....
In the tradition of H. G. Wells and Richard Matheson, Hater is one man's story of his place in a world gone mad a world infected with fear, violence, and HATE.
About the Author
David Moody is the author of "Dog Blood," "Autumn" and "Autumn: The City." He grew up in Birmingham, England, on a diet of horror movies and post-apocalyptic fiction. He started his career working at a bank, but then decided to write the kind of fiction he loved. His first novel, "Straight to You," had what Moody calls "microscopic sales," and so when he wrote "Autumn," he decided to publish it online. The book became a sensation and has been downloaded by half a million readers. He started his own publishing company, Infected Books. He lives in Britain with his wife and a houseful of daughters, which may explain his preoccupation with Armageddon.
Praise For Hater…
"A head-spinning thrill ride, a cautionary tale about the most salient emotion of the 21st century... HATER will haunt you long after you read the last page..."--GUILLERMO DEL TORO, director, Pan's Labyrinth, Hellboy 1 & 2

"A lucid approach to the state of fear in which we live in and a spine-chilling fable about its utmost consequences... Be careful with HATER, chapter by chapter it will make its way into your soul till it finds the seed of evil that lurks within."--J.A. BAYONA, director, The Orphanage, Hater

"Powerful and well-written."--S.M. STIRLING, author of Dies the Fire, The Scourge of God

"HATER touches something universal and truly scary--the little voice in all of our heads that tells us the difference between 'us' and 'them'.  Subtly drawn, engrossing characters take us inside a landscape of paranoia and fear."--DAVID WELLINGTON, author of Monster Island, 99 Coffins, Vampire Zero

"David Moody spins paranoia into a deliciously dark new direction. [He] is one scary guy."--JONATHAN MABERRY, author of Ghost Road Blues, Patient Zero

"David Moody's HATER is a brutal, eerie, and hugely entertaining novel that grips you with its grim and nihilistic attitude from page one.  The attention to detail used to paint an average man's often frustrating life is as disturbing as the bloody violence that follows, giving us one of the year's most readable nerve-shredders."--TOM PICCIRILLI, Bram Stoker Award-winning author of The Midnight Road, A Choir of Ill Children
or
Not Currently Available for Direct Purchase