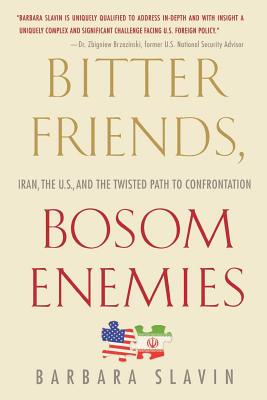 Bitter Friends, Bosom Enemies (Paperback)
Iran, the U.S., and the Twisted Path to Confrontation
St. Martin's Griffin, 9780312384913, 272pp.
Publication Date: January 6, 2009
* Individual store prices may vary.
Description
In Bitter Friends, Bosom Enemies, Barbara Slavin untangles the love-hate relationship between Iran and the United States that has brought the two countries to the brink of war. Slavin reveals that relations between Washington and Tehran have been riddled with contradictions for decades and details missed opportunities for reconciliation under both the Clinton and Bush administrations, including diplomatic rebuffs to Iran in Bush's first term based on the mistaken belief that the U.S. invasion of Iraq would weaken Iran's Islamic government. On e of the few reporters to interview high-profile Iranian officials, including Iran's current and last two presidents, Slavin describes all the key constituencies in Iran society from the clerics, to the Revolutionary Guards, to reformers and Iranian youth. She unveils Iran and shows it to be a country that both adores and fears the United States. Despite government propaganda that portrays the U.S. as the "Great Satan," many Iranians have come to idolize staples of American pop culture while holding on to their own traditions. The United States, on the other hand, has demonized Iran as a member of an "axis of evil" that supports terrorists and represses its own people who, in the words of U.S. officials, "deserve better." As Iran moves toward becoming a nuclear power, Slavin believes that the power brokers in Washington may be suffering from the same lack of understanding and foresight that led the U.S. into prolonged warfare in Iraq. Distrustful of each other's intentions yet longing at some level to reconcile, neither Tehran nor Washington knows how this story will end. Anyone interested in understanding the dynamics of this pivotal international relationship will find Bitter Friends, Bosom Enemies a crucial and compelling read.
About the Author
BARBARA SLAVIN is a former senior diplomatic correspondent for USA Today and a regular commentator on foreign affairs for C-Span, National Public Radio and the Public Broadcasting System. She is the author of Bitter Friends, Bosom Enemies. She lives in Washington, DC.
Praise For Bitter Friends, Bosom Enemies: Iran, the U.S., and the Twisted Path to Confrontation…
"Rarely has a book been more necessary or more timely. Drawing on decades of experience in the Middle East, Barbara Slavin has produced a masterful study of today's Iran. From the dusty streets of Qum to the highest government offices, Slavin has used her finely honed reporter's instinct to gain access to every level of Iranian society. Often surprising, always accessible, it is an indispensible book for anyone concerned with the direction of United States foreign policy." —Geraldine Brooks, Pulitzer-Prize winning author of March