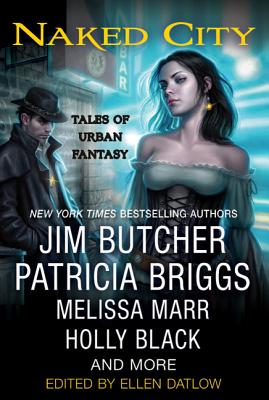 Naked City
Tales of Urban Fantasy
Paperback

* Individual store prices may vary.
Other Editions of This Title:
Digital Audiobook (7/4/2011)
CD-Audio (5/15/2014)
Hardcover (7/5/2011)
Description
In this thrilling collection of original stories some of today's hottest paranormal authors delight, thrill, and captivate readers with otherworldly tales of magic and mischief. In Jim Butcher's "Curses" Harry Dresden investigates how to lift a curse laid by the Fair Folk on the Chicago Cubs. In Patricia Briggs' "Fairy Gifts," a vampire is called home by magic to save the Fae who freed him from a dark curse. In Melissa Marr's "Guns for the Dead," the newly dead Frankie Lee seeks a job in the afterlife on the wrong side of the law. In Holly Black's "Noble Rot," a dying rock star discovers that the young woman who brings him food every day has some strange appetites of her own.

Featuring original stories from 20 authors, this dark, captivating, fabulous and fantastical collection, Naked City, is not to be missed! Edited by award-winning editor Ellen Datlow.
Praise For Naked City: Tales of Urban Fantasy…
"This anthology of short fiction affords a superb sampling of urban fantasy, that popular sf/fantasy subgenre defined in the book's introduction (which, in all of three pages, is a welcome and helpful, to say nothing of articulate, definition of this subgenre) as a combination of the "often-dark edge of city living with enticing worlds of magic"--with an urban landscape being absolutely crucial to the story. To put it another way (as also expressed in the introduction, that is), "where the story takes place should matter, in some way, to the story." The headliner piece, by virtue of its placement first in the collection's presentation and the name recognition of the author, is "Curses," by Jim Butcher, creator of the urban-fantasy series Dresden Files. It opens like a noir detective story--"Most of my cases are pretty tame"--but by page 2, we see this is Dresden Files fiction as well. The premise is a riot: the famous curse upon the Chicago Cubs has supernatural origins here. "Priced to Sell," by Naomi Novik, is also very entertaining. It's about vampires buying real estate in Manhattan. But you will have fun with all 20 stories." —Booklist
St. Martin's Griffin, 9780312385248, 560pp.
Publication Date: July 5, 2011
About the Author
Ellen Datlow is a winner of multiple World Fantasy Awards, two Hugo Awards for Best Editor, two Bram Stoker Awards, the International Horror Guild Award, and the Shirley Jackson Award. She was named recipient of the 2007 Karl Edward Wagner Award, given at the British Fantasy Convention for "outstanding contribution to the genre." In 2014, she was named Lifetime Achievement Winner of the World Fantasy Award.   In a career spanning more than twenty-five years, she has been the long-time fiction editor of Omni and more recently the fiction editor of SCIFI.COM. She has edited many successful anthologies, including Blood Is Not Enough, A Whisper of Blood, Alien Sex, Blood and Other Cravings, and, with Terri Windling, Sirens, Queen Victoria's Book of Spells, Snow White, Blood Red and five other titles in their adult Fairy Tales anthology series; The Green Man, The Faery Reel, and The Coyote Road for young adults; and, for younger readers, A Wolf at the Door, Swan Sister, and Troll's Eye View. She also co-edits the Year's Best Fantasy and Horror series. Ellen Datlow lives in Manhattan.