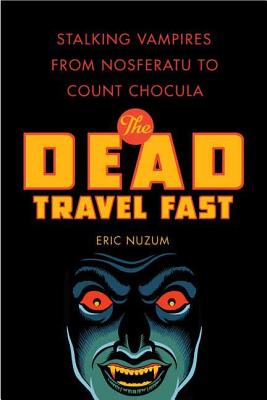 The Dead Travel Fast (Paperback)
Stalking Vampires from Nosferatu to Count Chocula
St. Martin's Griffin, 9780312386177, 256pp.
Publication Date: September 30, 2008
* Individual store prices may vary.
Description
The undead are everywhere. They're not just in movies and books, but in commercials, fetish clubs, and even in your breakfast cereal. Bloodsuckers have become some of the most recognizable bad guys in the modern world, and Eric Nuzum wanted to find out why. He was willing to do whatever it took —even drinking his own blood—in his quest to understand the vampire phenomenon. And he found the answer in Goth clubs, darkened parks, haunted houses, and . . . chain restaurants.
In The Dead Travel Fast, Nuzum delivers a far-reaching look at vampires in pop culture from Bram to Bela to Buffy, and at what vampires and vampirism have come to mean to us today. And the blood? Let's just say it doesn't go with eggs.
About the Author
Eric Nuzum is a recovering pop culture critic, VH1 pundit, and author of Parental Advisory: Music Censorship in America. He was awarded the 2002 National Edward R. Murrow Award for News Writing and his work has appeared in a few publications you've heard of and many more that you haven't heard of. He works for National Public Radio in Washington, D.C., where he lives with his wife.
Praise For The Dead Travel Fast: Stalking Vampires from Nosferatu to Count Chocula…
"It'll make you laugh and cringe." —USA Today Pop Candy blog
"A narrative adventure that's equal parts travelogue, investigative report, and pop culture criticism." —Entertainment Weekly
"Chatty, breezy, and often hilarious." —Kirkus Reviews
"This is a writer you want to follow anywhere." —January Magazine