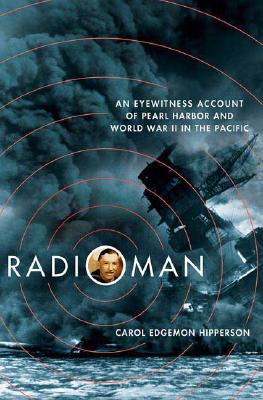 Radioman: An Eyewitness Account of Pearl Harbor and World War II in the Pacific (Hardcover)
An Eyewitness Account of Pearl Harbor and World War II in the Pacific
Thomas Dunne Books, 9780312386948, 304pp.
Publication Date: October 28, 2008
* Individual store prices may vary.
or
Not Currently Available for Direct Purchase
Description
Radioman is the biography of Ray Daves, a noncommissioned officer in the U.S. Navy and an eyewitness to World War II. It is based on the author's handwritten notes from a series of interviews that began on the eighty-second birthday of the combat veteran and gives a first-person account of the world's first battles between aircraft carriers.
Ray Daves grew up on a small farm near Little Rock, Arkansas. Impatient with school and the prospect of becoming a farmer like his father, he joined the CCC and went from there to the navy, where he learned to use the radio to send messages, and soon found himself in the momentary peacefulness of Pearl Harbor.
Most of America's World War II veterans were not in uniform when the war began. Daves is one of the few who was. He could also tell what was happening on the bridge of the famous carrier Yorktown before it went down and of the secretive relationship between the Russian and American forces in Alaska at the time.
Carol Edgemon Hipperson's discovery of this one man's inspiring story is shared with great skill and energy. A must-read for those looking for a personal, intimate account of the events of this tumultuous time in American history.
About the Author
Carol Edgemon Hipperson is the author of the award-winning military biography "The Belly""Gunner"," " which was the first book selected to the Library of Congress's list of recommended resources for students and teachers participating in the national Veterans History Project. She lives in Spokane, Washington.
Praise For Radioman: An Eyewitness Account of Pearl Harbor and World War II in the Pacific…
Advance Praise for Radioman "Radioman is a fine and informative outline of an everyday American who enlisted in the US Navy before World War Two and experienced first hand war in the Pacific. It is a useful and informative introduction to the world of enlisted men in a different era. In some ways it resembles the more practical side of the Sand Pebbles."--Newt Gingrich
"Radioman is the best written biography of a WWII career I've ever read. This book will cement the bonds between any reader and 'the Greatest Generation'."—Mal Middlesworth, National President, Pearl Harbor Survivors Association, Inc.
"Radioman is truly an engrossing and well-spun narrative. Hipperson retains Daves' fresh, youthful voice in a story that balances his colorful attention to detail with his broader perceptions. For those of us who have never experienced war first-hand, it is a compelling, action-filled story that moves quickly, while offering a rich array of interpretive notes and timelines for great reflection and substance."— Marsha Rooney, Curator of History, Northwest Museum of Arts & Culture
"From battle to battle, Radioman recounts a survivor's tale that must not be forgotten. Insights, memories, and most importantly--lessons. Never forget."--Vice Admiral John G. Morgan, Jr., United States Navy, Deputy Chief of Naval Operations for Information, Plans, and Strategy
"Fate put Ray Daves in the middle of several defining moments in United States military history. In Carol Edgemon Hipperson's book we learn of the sights, the sounds and even smells that Daves experienced during his 6 years, 4 months, 17 days, sixteen hours, and forty-two seconds in the US Navy. Memories brought to life again in Hipperson's Radioman."—Tim Schurtter, Program Officer, Veterans History Project, Library of Congress
"Fate placed WWII sailor Ray Daves in a rare spectrum of naval service. In addition to witnessing the attack on Pearl Harbor, he saw service on a destroyer, submarine, cruiser, aircraft carrier, including the Battles of Coral Sea and Midway, and eventually aviation duties in Alaska. Truly not the usual war experiences of a member of his generation."—Jack A. Green, Public Affairs Officer, Naval Historical Center
Advertisement