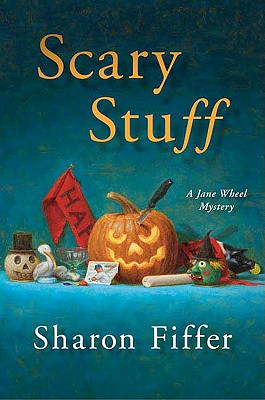 Scary Stuff (Hardcover)
Minotaur Books, 9780312387785, 304pp.
Publication Date: September 29, 2009
* Individual store prices may vary.
Description
Antique picker Jane Wheel has always loved old stuff, from vintage salt and pepper shakers to other families' old photos and orphaned Bakelite buttons, and she can't really explain why. But she makes a living out of it, searching high and low at estate sales and antique shops and reselling her finds to other collectors. At least, it's half a living---she makes the other half as an associate to a private detective, because she's just as talented at digging up secrets as antiques.

While visiting her brother for the first time in years, Jane's fascinated by a story of mistaken identity: On three occasions, someone has accused him of swindling them on eBay, only to realize he's not the right guy. Even though he doesn't see the point, she wants to look into it. Then back at home one of her parents' friends is attacked, leading Jane to vow to get to the bottom of things.

Out of nowhere, Jane suddenly has two cases, both edging a little too close to her loved ones for comfort, because one thing's for sure---whenever family gets wrapped up in your personal business, it's bound to be some scary stuff.
About the Author
Sharon Fiffer collects buttons, Bakelite, pottery, vintage potholders, keys, locks, and other killer stuff. She is coeditor of the anthologies "Home: American Writers Remember Rooms of Their Own; Body"; and "Family: American Writers Remember Their Own," and the author of five previous Jane Wheel mysteries as well as the nonfiction book, "Imagining America." She lives near Chicago.
Praise For Scary Stuff…
Praise for Sharon Fiffer and All of Her Stuff

"Amusing takes on Hollywood personalities and excesses."
---Kirkus Reviews on Hollywood Stuff

"Quirky characters, intriguing family relationships, antique lore, and the history of Kankakee are all entwined in this entertaining mystery."
---Booklist on Buried Stuff 

"Not even John O'Hara could have objectified that social divide faster or neater."
---Chicago Tribune on The Wrong Stuff

"Haunters of flea markets and yard sales are in for a collectible treat."
---Publishers Weekly on The Wrong Stuff

"Fiffer has created an attractive and entertaining detective."
---The Dallas Morning News on Killer Stuff

"Sharon Fiffer's first mystery is a must-have. . . . This one's a keeper."
---Chicago Tribune on Killer Stuff
or
Not Currently Available for Direct Purchase