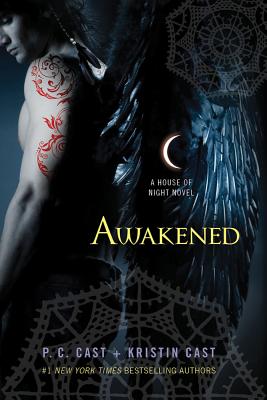 Awakened
A House of Night Novel (House of Night Novels #8)
Paperback

* Individual store prices may vary.
Other Editions of This Title:
Digital Audiobook (1/3/2011)
Digital Audiobook (1/3/2011)
Hardcover (1/4/2011)
Prebound (6/5/2012)
Compact Disc, Abridged, Abridged (1/4/2011)
Paperback (10/1/2011)
Compact Disc (1/4/2011)
Hardcover, Large Print (6/1/2011)
Mass Market (7/19/2013)
Description
Exonerated by the Vampyre High Council and returned to her position of High Priestess at Tulsa's House of Night, Neferet has sworn vengeance on Zoey. Dominion over Kalona is only one of the weapons she plans to use against Z. But Zoey has found sanctuary on the Isle of Skye and is being groomed by Queen Sgiach to take over for her there. Being Queen would be cool, wouldn't it? Why should she return to Tulsa? After losing her human consort, Heath, she will never be the same—and her relationship with her super-hot-warrior, Stark, may never be the same either…

And what about Stevie Rae and Rephaim? The Raven Mocker refuses to be used against Stevie Rae, but what choice does he have when no one in the entire world, including Zoey, would be okay with their relationship? Does he betray his father or his heart?

In the pulse-pounding eighth House of Night Novel by PC Cast and Kristin Cast, how far will the bonds of friendship stretch and how strong are the ties that bind one girl's heart?
Praise For Awakened: A House of Night Novel (House of Night Novels #8)…
"The mega-selling Cast team continues to reveal its pulse-pounding saga through the viewpoints of multiple characters, giving fresh insight into their hearts and motivations...Tragedy, sacrifice and choice are all themes that make this story gripping." —Romantic Times

"The saga of the House of Night series continues to smolder in Burned...Overall this is a fast and furious read, but a rewarding one." —VOYA on BURNED, House of Night Book 7

"Burned [is] a strong, moving, powerful addition to this series....The last fifty pages just wrung me out, crying and happy all at the same time. I don't know where in the world the next book will be going but I wouldn't miss it!" —Night Owl Reviews on BURNED, House of Night Book 7

"Cast and Cast pull out all the stops and take this story to shattering new heights with devastating consequences!" —Romantic Times (4 ½ stars) on TEMPTED, House of Night Book 6

"P. C. And Kristin Cast havef made an absolutely amazing [YA] series. The visuals offered by this fantastic duo are entertaining and imaginative, with nonstop action... This is easily a [YA] series that can entertain adults with action, hot Vampyres, true friendship, budding romance, a loving Goddess, and a twist of the unexpected." —HowlingGoodBooks.com (5 stars) on TEMPTED, House of Night Book 6

"Move over, Stephenie Meyer." —People on HUNTED, House of Night Book 5

"Zoey Redbird's first-person adventures take on added danger and importance in the latest House of Night release. Forced by circumstance to grow up quickly, Zoey's emotional and spiritual evolution is fascinating. The Cast duo breathes life and vibrancy into the characters and makes each one an integral part of the saga. Awesome and unforgettable as always!" —Romantic Times (4.5 stars) on HUNTED, House of Night Book 5

"The Cast duo has done it again! These ladies appear to be an unstoppable force within the world of YA literature... Teenage readers will be drawn to Zoey's everyday, angst-riddled life. Not only does she need to save the world, Zoey needs to solve some major vampyre/human boy drama. These stories are surreal, yet shockingly accurate when it comes to teenagers and their lives." —TeensReadToo.com (5 stars) on HUNTED, House of Night Book 5

"The most masterful part of the writing lies in how the authors take on serious issues sex, peer pressure, bullying, parental alienation, religion, and substance abuse and weave them into the text. It is a refreshing perspective that doesn't feel like preaching." —Tulsa World on HUNTED, House of Night Book 5

"This is a series that should not be missed!" —EnchantingReviews.com on UNTAMED, House of Night Book 4

"Untamed is a fast moving and adventure filled read, with engaging characters and just a touch of romantic chemistry to keep fans guessing. This is a well-written young adult series that should easily appeal to both teens and adults." —Darque Reviews on UNTAMED, House of Night Book 4

"The mother and daughter writing team have created a believable world with characters that you can't let go of. The story is addictive and the cliffhanger ending in this installment has me wishing the months till March will fly by! The fifth book Haunted will surely be another great book in this amazing series." —ParaNormalRomance.org on UNTAMED, House of Night Book 4

"Teenage issues can seem like life or death, but in this haunting series, House of Night, that's really the case. Through Zoey's eyes readers are led into a world that's getting more complicated by the minute, where friends and enemies can switch positions in a heartbeat. The remarkable Cast duo continues to build a world that you won't soon forget!" —Romantic Times (4.5 stars) on CHOSEN, House of Night Book 3

"Chosen, The House of Night series book 3, is like the cream in an Oreo cookie holding the two ends together. This story is gearing up for the final showdown between Zoey and Nepheret and mother and daughter team, P.C. and Kristen Cast are setting the stage perfectly for this....Again, P.C. Cast is an auto-buy author for me and this series is also on that auto-buy list." —Paranormal Romance Reviews on CHOSEN, House of Night Book 3

"The Cast and Cast team is back and stirring up deep trouble in their beguiling supernatural world....The issues faced by these teens are not child's play, and the stakes are life and death. This is extremely craveable reading!" —Romantic Times (4.5 stars) on BETRAYED, House of Night Book 2

"Some would find it hard to write the sequel to a great book like Marked, but the Cast women obviously didn't have that problem. I laughed, sighed, and definitely cried. I thought that I knew where this series was headed but the authors took me completely by surprise. Congrats to P.C. and Kristin Cast, on a fantastic job. Bring on Chosen!" —Night Owl Romance Reviews on BETRAYED, House of Night Book 2

"P.C. and Kristin Cast make a fantastic writing team. This enchanting tale is filled with non-stop action, strong relationships, and sweet blossoming romance. Whether you're a teen or an adult who loves a great paranormal read, this is a series not to be missed." —Darque Reviews on BETRAYED, House of Night Book 2

"This highly addicting series offers a unique twist on the standard vampyre story and is sure to please a wide variety of readers. Although she is a vampyre, Zoey Redbird's journey is one for every teen... These books will have the reader laughing hysterically and sobbing unreservedly-sometimes all at once." —VOYA (on both Marked and Betrayed)

"Zoey Redbird... is basically the most relatable vampire - sorry, fledgling vampyre - I've ever read about." —MTV.com on MARKED, House of Night Book 1

"The Casts have put a very interesting new spin on vampire lore. The action is fast paced and absorbing, interspersing light moments among the intensity. When you reach the climax of the tale, you'll be on the edge of your seat. Though this is labeled a young adult novel, I strongly suspect adults of any age will enjoy it." —Huntress.com on MARKED, House of Night Book 1

"The Casts, mother and daughter, have written a delightful book that's aimed at teens but will be enjoyed by readers of all ages. The trials of growing up are presented in the new and original context of a vampire society, and they're woven into a thoroughly entertaining story. Zoey is a dynamic and spunky heroine who has an amusing and realistic voice. She's surrounded by secondary characters who are just as engaging. The dialogue is sharp and the references to real people and pop culture add to the story. This promises to be a highly addictive series." —Romantic Times (4.5 stars) on MARKED, House of Night Book 1

"Marked is one of the best coming of age stories to come out of Oklahoma since S. E. Hinton's The Outsiders. It teaches about the beauty of being a social outcast, friendship, and finding your own inner spirituality." —The Beltane Papers on MARKED, House of Night Book 1

"From the moment I stuck my face in this book it hooked me! Totally awesome new take on vampires! Marked is hot and dark and funny. It rocks!" —Gena Showalter, author of MTV's Oh My Goth on MARKED, House of Night Book 1

"Cast reeled me in from paragraph one. I snorted and giggled through the whole thing, and devoured it in one sitting." —MaryJanice Davidson, New York Times bestselling author of the Undead series on MARKED, House of Night Book 1
St. Martin's Griffin, 9780312387976, 304pp.
Publication Date: June 5, 2012
About the Author
P.C. Cast is the author of the House of Night novels, including Marked, Betrayed, Chosen, and Untamed.

Ms. Cast is a #1 New York Times and USA Today Best-Selling author and a member of the Oklahoma Writers Hall of Fame. With more than 20 million copies in print in over 40 countries, her novels have been awarded the prestigious Oklahoma Book Award, YALSA Quick Pick for Reluctant Readers, Romantic Times Reviewers' Choice Award, the Prism, Holt Medallion, Daphne du Maurier, Booksellers' Best, and the Laurel Wreath.

Ms. Cast was born in the Midwest and grew up being shuttled back and forth between Illinois and Oklahoma, which is where she fell in love with Quarter Horses and mythology. After high school she joined the United States Air Force and began public speaking and writing. After her tour in the USAF, she taught high school for 15 years before retiring to write full time. She now lives in Oregon surrounded by beloved cats, dogs, horses, and family.
Kristin Cast
is a #1
New York Times
and #1
USA Today
bestselling author who teams with her mother to write the wildly successful HOUSE OF NIGHT series. She has editorial credits, a thriving t-shirt line, and a passion for all things paranormal. When away from her writing desk, Kristin loves going on adventures with her friends, family, and significant other, playing with her dogs (Grace Kelly and Hobbs the Tiny Dragon), and is obsessed with her baby.