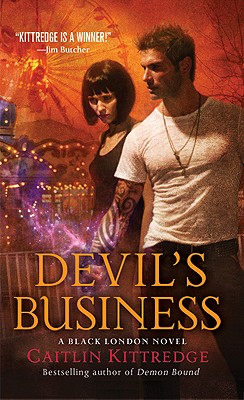 Devil's Business (Mass Market Paperback)
St. Martin's Paperbacks, 9780312388232, 336pp.
Publication Date: August 30, 2011
* Individual store prices may vary.
or
Not Currently Available for Direct Purchase
Description
Pete Caldecott did everything she could to save Jack from Hell, even reigning in the dark machinations of the Morrigan to help bring him home. Still, Black London has not welcomed Jack back with open arms. . . So when a friend in Los Angeles asks for help tracking a sorcerous serial killer, Pete and Jack decide a change of scenery couldn't hurt. . .
But the shadow side of the City of Angels turns out to be more treacherous than they ever imagined. Together, Pete and Jack must navigate a landscape teeming with hostile magic-users and fight an unknown enemy. When their investigation leads to a confrontation with the demon Belial, Jack learns that he wasn't the only thing to escape from Hell. Now it's up to him and Pete to track and eliminate an evil older than the Black itself before it turns L.A. into Hell on Earth. And destroys life as they know it back at home
About the Author
Caitlin Kittredge is the author of the Nocturne City and Black London series, as well as several short stories. She started writing novels at age 13, and after a few years writing screenplays, comic books and fan-fiction, she wrote "Night Life," her debut novel. She is the proud owner of an English degree, two cats, a morbid imagination, a taste for black clothing, punk rock, and comic books. She's lucky enough to write full time and watches far too many trashy horror movies. She lives in Olympia, Washington.
Praise For Devil's Business…
Acclaim for Caitlin Kittredge's Black London series
"Takes supernatural shadows to the next level. Kittredge knows how to create a believable world, and her fans will enjoy the mix of magic and city grit." —Publishers Weekly
"Crackles with conflict and perilous magic...For those who love their urban fantasy hypnotically treacherous, this book's for you!" —RT Book Reviews
"Street Magic jumps right in to non-stop supernatural action, taking urban fantasy fans on a wild ride."—Darque Reviews
"This is a dark, visceral read that sucks you in and doesn't let you up for air. That is part of my intense love for this series... It hit all my buttons; ghosts, magic, demons, cemeteries, England, moors, fog, supernatural creatures, ancient deities. The way things ended, I am seriously anxious to see what is happening next. Go out and get this!"—Night Owl Romance
"Sensual and empowering."—Romance Junkies
Advertisement