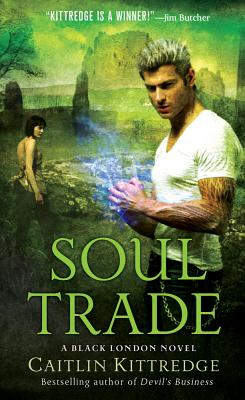 Soul Trade (Mass Market Paperbound)
St. Martin's Press, 9780312388256, 296pp.
Publication Date: August 28, 2012
* Individual store prices may vary.
Description
Soul Trade
A Black London Novel
Caitlin Kittredge
The crow-mage Jack Winter returns to crash a secret gathering of ghost hunters, soul stealers, and other uninvited guests, both dead and alive
Normally, Pete Caldecott stays far away from magical secret societies. But ever since her partner and boyfriend Jack Winter stopped a primordial demon from ripping into our world, every ghost, demon, and mage in London has been wide awake and hungry. And the magical society in question needs their help putting things right.
SOUL TRADE
It all begins with an invitation. Five pale figures surround Pete in the cemetery to "cordially" invite her to a gathering of the Prometheus Club. Pete's never heard of them, but Jack has and he's not thrilled about it. Especially the part that says, "Attend or die." The Prometheans wouldn't come to London unless something big's about to go down. So Pete and Jack decide to play it safe and make nice with the club even if that means facing down an army of demons in the process. But now that they've joined the group, they're about to discover that membership comes at a cost and has apocalyptic consequences.
About the Author
CAITLIN KITTREDGE is the author of the Nocturne City and Black London series, as well as several short stories and young adult novels. She is the proud owner of an English degree, two cats, a morbid imagination, a taste for black clothing, punk rock, and comic books. She's lucky enough to write full time and watches far too many trashy horror movies.
Praise For Soul Trade…
Acclaim for Caitlin Kittredge's Black London series
"Takes supernatural shadows to the next level. Kittredge knows how to create a believable world, and her fans will enjoy the mix of magic and city grit." —Publishers Weekly
"Crackles with conflict and perilous magic...For those who love their urban fantasy hypnotically treacherous, this book's for you!" —RT Book Reviews
"Street Magic jumps right in to non-stop supernatural action, taking urban fantasy fans on a wild ride."—Darque Reviews
"This is a dark, visceral read that sucks you in and doesn't let you up for air. That is part of my intense love for this series... It hit all my buttons; ghosts, magic, demons, cemeteries, England, moors, fog, supernatural creatures, ancient deities. The way things ended, I am seriously anxious to see what is happening next. Go out and get this!"—Night Owl Romance
"Sensual and empowering."—Romance Junkies
…and the Nocturne City novels
"Pure Blood pounds along hard on the heels of Night Life, and is every bit as much fun as the first in the series. With a gutsy, likable protagonist and a well-made fantasy world, Pure Blood is real enough to make you think twice about locking your doors at night. A swiftly-paced plot, a growing cast of solid supporting characters, and a lead character you can actually care about—Kittredge is a winner."  —Jim Butcher
"I loved the mystery and the smart, gutsy heroine."—Karen Chance, New York Times bestselling author of Claimed by Shadow
"A nonstop thriller laced with a ferociously deadly menace. Count on Kittredge's heroine to never say die!" —RT Book Reviews
"Kittredge takes readers on a dark adventure complete with thrills, chills, and a touch of romance. Well written…and impossible to set down."—Darque Reviews  
"Fast-paced, sexy and witty with many more interesting characters than I have time to mention. I'm looking forward to reading more stories in the exciting Nocturne City series." —Fresh Fiction
or
Not Currently Available for Direct Purchase