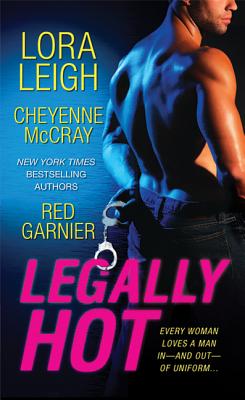 Legally Hot
Three Steamy Novellas
Paperback

* Individual store prices may vary.
Other Editions of This Title:
Paperback (1/1/2012)
Description
Three of today's top writers of romantic suspense want you to meet a few good men who are so HOT, it's criminal…
Lora Leigh
"Sheila's Passion"
As a former Marine, Nick Casey still wakes up in a sweat over the things he's seen in the field. However, when it comes to his best friend—and the only woman he has ever wanted—Sheila Monterey, he may have met his biggest challenge yet. Sheila has sworn off love after having her heart broken one time too many and Turk can't convince her to give it another try. But when he tempts her into becoming temporary friends with benefits, Nick fully intends to make her his forever…
Cheyenne McCray
"Deadly Dance"
Detective Adam Boyd is still putting his life back together after a break-up when he gets word that the man who killed his old partner has been released from prison. Keri Holliday's career as a professional ballerina was ended abruptly six years ago after she was brutally attacked. Now her attacker, the same man who killed Adam's partner, is back on the streets, and looking for revenge against the woman whose testimony assured he was locked away. Adam will do whatever it takes to keep her safe…and never let her go.
Red Garnier
"Caught"
After his parents were murdered, young Cody was put in foster care…and Megan has thought about him ever since. Now that Cody is back he has three things to tell Megan: He's a police officer, he's found his parents' killer, and he wants to be her man—until death do they part.
St. Martin's Paperbacks, 9780312389130, 336pp.
Publication Date: January 3, 2012
About the Author
#1 New York Times bestseller, LORA LEIGH is the author of the Navy SEALS, the Breeds, the Elite Ops, the Callahans, the Bound Hearts, and the Nauti series.
"Lora Leigh writes compelling, red-hot romance." --Sacramento Book Review
New York Times
and
USA Today
bestselling author
Cheyenne McCray
writes the Night Tracker novels and the Armed and Dangerous series, among others. She grew up on a ranch in southeastern Arizona. She has been writing ever since she can remember, back to her kindergarten days when she penned her first poem. She always knew one day she would write novels—she wanted to create worlds that readers would get lost in, just as she had always gotten lost in her favorite books. "Growing up I read, read, and read," she says, "and grew up to write, write, write." She has three sons and two dogs. A true Arizona native, she loves the desert and all of the sunshine and beautiful sunsets that go along with it.
Red Garnier loves a good book and a great romance. Nothing brings a smile to her face faster than a happily-ever-after, especially once she gets to pen down. Red is living her deepest, most cherished dream today, thanks to a bit of luck, a lot of work, and a lot of support. She is a happy wife, mother, and a full-time writer. She is the author of The Billionaire's Club, starting with "Claimed by Him."
or
Not Currently Available for Direct Purchase