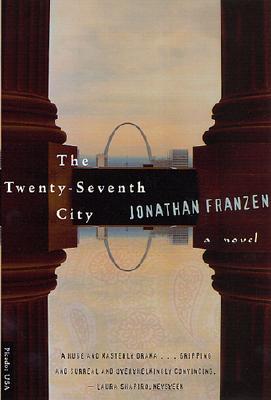 The Twenty-Seventh City
Paperback

* Individual store prices may vary.
Other Editions of This Title:
Paperback (10/12/2021)
Paperback (11/5/2013)
MP3 CD (1/7/2014)
MP3 CD (8/25/2015)
Paperback (4/1/1997)
MP3 CD (1/7/2014)
Compact Disc (1/7/2014)
Compact Disc (1/7/2014)
Description
St. Louis, Missouri, is a quietly dying river city until it hires a new police chief: a charismatic young woman from Bombay, India, named S. Jammu. No sooner has Jammu been installed, though, than the city's leading citizens become embroiled in an all-pervasive political conspiracy. A classic of contemporary fiction, "The Twenty-Seventh City" shows us an ordinary metropolis turned inside out, and the American Dream unraveling into terror and dark comedy.
Praise For The Twenty-Seventh City…
"A novel so imaginatively and expansively of our times that it seems ahead of them."—Richard Eder, The Los Angeles Times

"A startling, scathing first novel about American ambition, power, politics, money, corruption and apathy."—Jeff Jarvis, People

"Franzen has managed to put together a suspense story with the elements of a complex, multilayered psychological novel . . . A riveting piece of fiction that lingers in the mind long after more conventional potboilers have bubbled away." —Peter Andrews, The New York Times Book Review

"Franzen goes for broke here--he's out to expose the soul of a city and all the bloody details of the way we live . . . Franzen has written a book of range, pith, intelligence."—Margo Jefferson, Vogue

"A weird hybrid of realism and fantasy: municipal science fiction. Everything proceeds from a daring, outrageously unlikely premise."—Terrence Rafferty, The New Yorker

"Mr. Franzen has proved with this immodestly ambitious first novel that he has talent to spare. His is a worthwhile entertainment, this picaresque tale the principal vagabond of which is its own sinuous plot."—Donna Rifkind, The Wall Street Journal

"Unsettling and visionary . . . The Twenty-Seventh City is not a novel that can be quickly dismissed or easily forgotten: it has elements of both 'Great' and "American' . . . A book of memorable characters, surprising situations, and provocative ideas."—Michele Slung, The Washington Post

"Franzen's tour de force (to call it a 'first novel' is to do it an injustice) is a sinister fun-house-mirror reflection of urban America in the 1980s . . . There's a lot of reality out there. The Twenty-Seventh City, in its larger-than-life way, is a brave and exhilarating attempt to master it."—Michael Upchurch, The Seattle Times

"He has the kind of ability that can take what one would have thought the most mundane of cities and render it as an utterly persuasive labyrinth of mystery and meaning."—Mark Feeney, The Boston Sunday Globe

"An imaginative and riveting examination of our flawed society. The Twenty-Seventh City provides a rare blend of entertainment and profound social commentary."—Christine Vogel, Chicago Sun-Times
Picador USA, 9780312420147, 528pp.
Publication Date: September 8, 2001
About the Author
Jonathan Franzen is the author of "The Corrections," "The Twenty-Seventh City" and "Strong Motion." He has been named one of the Granta 20 Best Novelists under 40 and is a frequent contributor to" The New Yorker" and "Harper's."

""