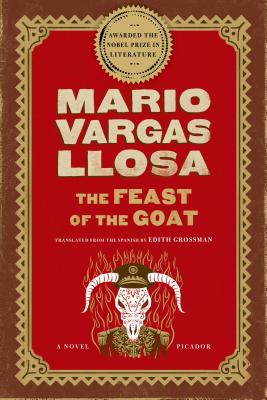 The Feast of the Goat (Paperback)
A Novel
Picador, 9780312420277, 416pp.
Publication Date: November 9, 2002
* Individual store prices may vary.
Description
Haunted all her life by feelings of terror and emptiness, forty-nine-year-old Urania Cabral returns to her native Dominican Republic - and finds herself reliving the events of l961, when the capital was still called Trujillo City and one old man terrorized a nation of three million. Rafael Trujillo, the depraved ailing dictator whom Dominicans call the Goat, controls his inner circle with a combination of violence and blackmail. In Trujillo's gaudy palace, treachery and cowardice have become a way of life. But Trujillo's grasp is slipping. There is a conspiracy against him, and a Machiavellian revolution already underway that will have bloody consequences of its own. In this 'masterpiece of Latin American and world literature, and one of the finest political novels ever written' (Bookforum), Mario Vargas Llosa recounts the end of a regime and the birth of a terrible democracy, giving voice to the historical Trujillo and the victims, both innocent and complicit, drawn into his deadly orbit.
About the Author
Mario Vargas Llosa is Peru's foremost author and the winner of the 2010 Nobel Prize in Literature. In 1994 he was awarded the Cervantes Prize, the Spanish-speaking world's most distinguished literary honor, and in 1995 he won the Jerusalem Prize. His many distinguished works include The Storyteller, The Feast of the Goat, Aunt Julia and the Scriptwriter, Death in the Andes, In Praise of the Stepmother, The Bad Girl, Conversation in the Cathedral, The Way to Paradise, and The War of the End of the World. He lives in London.

Edith Grossman has translated the poetry and prose of major Spanish-language authors, including Gabriel García Marquez, Alvaro Mutis, and Mayra Montero, as well as Mario Vargas Llosa.
Praise For The Feast of the Goat: A Novel…
"A fierce, edgy and enthralling book...Mr. Vargas Llosa has pushed the boundaries of the traditional historical novel, and in doing so has written a book of harrowing power and lasting resonance." —The New York Times
"[Vargas Llosa] is one of our greatest and most influential novelists. His new novel confirms his importance. In the world of fiction his continued exploration of the often-perilous intersection of politics and life has enriched 20th century literature...In The Feast of the Goat, Vargas Llosa paints a portrait that is darkly comic, poignant, admirable and horrifying all at once." —Los Angeles Times
"The book brings readers to the precipice of terror and lets us look into the abyss of cruelty as it poses and answers the question: Why do people not oppose dictators?...He has by his body of work already secured a place as one of the monumental writers of our time." —The Boston Globe
"With the publication of The Feast of the Goat, Vargas Llosa reassumes his place as one of the world's most important contemporary novelists." —USA Today