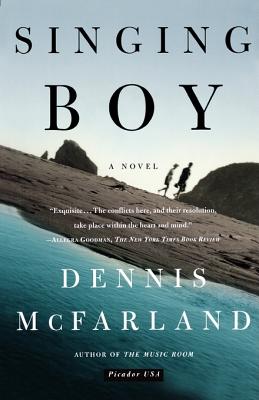 Singing Boy (Paperback)
Picador, 9780312420628, 320pp.
Publication Date: March 1, 2002
* Individual store prices may vary.
Description
On the way home from dinner, Malcolm Vaughn is shot and killed in front of his family - the victim of a random act of violence. Undone by shock and grief, his wife Sarah retreats from the world, postponing her return to work and their son Harry's return to school. Harry appears to have come through the loss unscathed, until a troubling incident reveals his profound pain and confusion. It will take time—and the support of Malcolm's best friend, Deckard, a Vietnam vet with troubles of his own—to help them understand the intracies of their sorrow.
About the Author
Dennis McFarland is the bestselling author of "The Music Room," "School for the Blind "and "A Face at the Window." His fiction has appeared in "Best American Short Stories" and "The New Yorker." He lives with his family in Massachussetts.
Praise For Singing Boy…
"Searing . . . McFarland is particularly adept at the small moments of which heartbreak is made: a shattered teapot; Sarah's attempt to find solace in Malcolm's closet; and her Brazilian housekeeper's hard-edged efforts to nudge her into healing.'You have no light,' the maid observes. But Singing Boy does."—Joanne Kaufman, People

"Its sophisticated and subtle analysis of each character's grief and resolution is compelling. Highly recommended."—Library Journal

"The author is acutely sensitive to mourning's nuances of speech and variation in motives, but humorous overtones temper the novel's somberness . . . McFarland tenderly addresses timeless issues of death and remembrance."—Publishers Weekly

"Well worth reading for its profound and unsentimental exploration of the grieving process."—Kirkus Review

"[McFarland] tells a story that is moving and powerful."—Carolyn Kubisz, Booklist
or
Not Currently Available for Direct Purchase