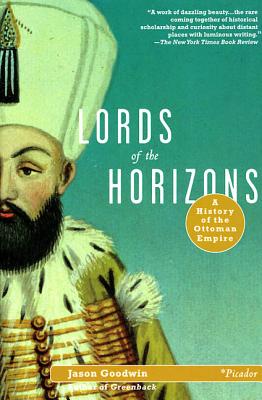 Lords of the Horizons (Paperback)
A History of the Ottoman Empire
Picador, 9780312420666, 368pp.
Publication Date: January 1, 2003
* Individual store prices may vary.
Description
For six hundred years, the Ottoman Empire swelled and declined. Islamic, martial, civilized, and tolerant, it advanced in three centuries from the dusty foothills of Anatolia to rule on the Danube and the Nile; at its height, Indian rajahs and the kings of France beseeched the empire's aid. In its last three hundred years the empire seemed ready to collapse, a prodigy of survival and decay. In this striking evocation of the empire's power, Jason Goodwin explores how the Ottomans rose and how, against all odds, they lingered on. In doing so, he also offers a long look back to the origins of problems that plague present-day Kosovars and Serbs.
About the Author
JASON GOODWIN is the Edgar Award–winning author of the Investigator Yashim series. The first five books—The Janissary Tree, The Snake Stone, The Bellini Card, An Evil Eye, and The Baklava Club—have been published to international acclaim, alongside Yashim Cooks Istanbul, a cookbook of Ottoman Turkish recipes inspired by the series. Goodwin studied Byzantine history at Cambridge and is the author of Lords of the Horizons: A History of the Ottoman Empire, among other award-winning nonfiction. He lives with his wife and children in England.
Praise For Lords of the Horizons: A History of the Ottoman Empire…
"A work of dazzling beauty...the rare coming together of historical scholarship and curiosity about distant places with luminous writing." —The New York Times Book Review
"A meditation on a vanished world that hovers like an apparition over today's grim headlines." —The New York Times Book Review
"Jason Goodwin's deftly written and beguiling history of the Ottoman Empire is particularly pertinent today, when the cauldron of ancient hatred once more boils over, but his prose would be welcome at any time." —The Boston Globe
"May be read with pleasure and profit by everyone, not least the traveler headed east of Vienna and west of Baghdad." —The Wall Street Journal
"A delightfully picaresque history, brimming with memorable anecdotes and outrageous personalities." —Kirkus Reviews