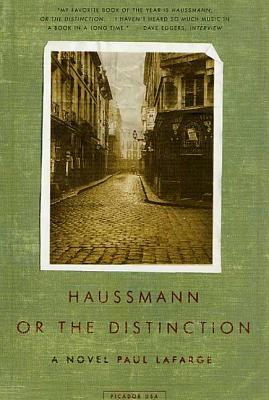 Haussmann, or the Distinction (Paperback)
A Novel
Picador, 9780312420925, 400pp.
Publication Date: October 2, 2002
Other Editions of This Title:
Digital Audiobook (6/25/2005)
Hardcover (9/1/2001)
Compact Disc (11/1/2003)
MP3 CD (11/1/2003)
* Individual store prices may vary.
Description
A stunning, imaginative novel about the great architect of Paris
Baron Georges-Eugène Haussmann, who demolished and rebuilt Paris in the middle of the nineteenth century, was the first urbanist of the modern era--and perhaps the greatest. He presided over two decades of riches, peace, and progress in a city the likes of which no one had ever seen before, with boulevards monumentally conceived and brilliantly lit, clean water, public transportation, and sewers that were the envy of every nation in the world. Yet there is a story that, on his deathbed, Haussmann wished all his work undone. "Would that it had died with me!" he is supposed to have said. What is the secret of the baron's last regret?
To answer this question, Haussmann tells the story of Madeleine, a foundling who grew up in the magical, chaotic world that Haussmann destroyed; of de Fonce, one of the great artistes démolisseurs who tore Paris down and sold its rubble as antiques; and of a three-sided affair that pits love against ambition, architecture against flesh, and the living Parisians against Haussmann's unbuilt masterpiece, the Railroad of the Dead.
Although steeped in history, Paul LaFarge's Haussmann, or the Distinction is a novel not bound by fact; it is an account of the hidden, sometimes fantastical life of the nineteenth century, a work that will make readers think of Borges as well as Balzac; it is a view of cities, of love, and of history itself from the other side of the mirror.
About the Author
Paul La Farge is the author of the novels The Artist of the Missing (FSG, 1999), Haussmann, or the Distinction (FSG, 2001), and Luminous Airplanes (FSG, 2011); and a book of imaginary dreams, The Facts of Winter. His short stories have appeared in McSweeney's, Harper's Magazine, Fence, Conjunctions, and elsewhere. His nonfiction appears in The Believer, Bookforum, Playboy, and Cabinet. He lives in upstate New York.
Praise For Haussmann, or the Distinction: A Novel…
"Imaginative. . .compelling storytelling. . .we can't help reading on." —The New York Times Book Review
"LaFarge is a confident, tireless trickster and yarn spinner...a magician on the scale of Prospero." —San Francisco Chronicle
"LaFarge is a master storyteller with cleverness and inventiveness to spare....[An] ambitious and playful novel...full of artful prose, wit, and provocative ideas." —The Philadelphia Inquirer
"With his dazzling gift for bringing irretrievable cities to life, LaFarge conjures sinuous, melancholic otherworlds that feel wholly tangible." —The Village Voice
"Haussman designed cities; LaFarge designs worlds--splendid, elegant edifices built on the rubble of our dreams and history." —Colson Whitehead, author of John Henry Days