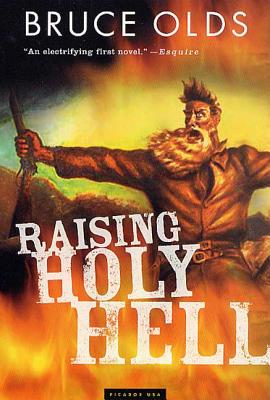 Raising Holy Hell
A Novel
Paperback

* Individual store prices may vary.
Description
On October 16, 1859, John Brown led a raid on the federal arsenal at Harper's Ferry, leaving fifteen people dead. Viewed in the North as a saint of freedom and in the South as the devil incarnate, Brown was a visionary who not only foretold but made inevitable the bloody apocalypse of the Civil War. An intricate mosaic of alternating narrative voices, Bruce Old's Raising Holy Hell is an explosive, multitextured evocation of the prophetic madness of the man who saw an America damned by the sin of slavery.
Praise For Raising Holy Hell: A Novel…
"A brilliant first novel." —The Nation

"Portrays vividly episodes in Brown's life that have little do with his place in American folklore. Raising Holy Hell avoids judgment and relishes ambivalence. Olds presents history not as a narrative, but as the combination and conflict of fragmentary, individual perceptions. This ambitious novel raises questions about how a life can be represented in writing, and argues for fiction's place alongside conventional biography." —Times Literary Supplement

"Mr. Olds succeeds admirably . . . The book's achievement is that it forces us to confront John Brown not only as a symbol, but as a human being. Mr. Olds has taken some substantial risks and has confronted tough, serious issues in an evenhanded fashion." —The New York Times Book Review

"An elegant fictionalized biography . . . reminding readers of the racism that has always driven America's history. Beautifully written: full of poetic language, internal rhymes, and carefully constructed passages." —The San Jose Mercury News

"A complex and disturbing portrait of a zealot . . . Exposes the individual and institutional bigotry of an entire political system and indicts our Founding Fathers. An exceptional novel--dark, intense, and provocative." —Lexington Herald-Leader

"This virtuosic, complex first novel . . . portray[s] not only John Brown, but . . . the very process by which history, and heroes, are made. Olds has written a dazzling novel various in its viewpoints and rich in its implication. . . . Invigorating reading [that] loots history to make art . . . Extraordinary." —The Boston Book Review

"The best sort of historical fiction . . . A memorable portrait of a man who believed himself called to redeem America from its Original Sin." —The Philadelphia Inquirer

"Olds is an enormously inventive interpreter of history and character. He is also a daredevil stylist. The presence of his prodigious intelligence is felt on each page. He raids sacred arsenals. He wields irony like an anvil. His vocabulary is as vociferous as his opinions. He writes, one might say, like a man possessed." —The Washington Post Book World

"Madman, terrorist, or saint? In Raising Holy Hell, Bruce Olds gives us a John Brown who is something of all three . . . a cut-and-paste monument to the interpenetration of fact and fancy in historical legend . . . Vivid and convincing . . . Powerful." —Los Angeles Times Book Review

"An act of historical recovery and cultural exorcism . . . vividly drawn . . . with brutally empirical prose [of] ferocious beauty. With its difficult portraiture, complexities of character, and the dozen species of violence at its heart, Raising Holy Hell makes emphatic a distinctly American darkness, the specific horror some pursuits of happiness entail--and for whose lawlessness there is no apparent alternative." —The Boston Globe

"[An] impassioned first novel. . . . John Brown's body . . . is brought electrically to life . . . in the author's tumbling kaleidoscope [with] a breathless pace exactly suited to [Brown's] meteoric and fated career . . . An exciting drama." —The Miami Herald

"Fiery [and] provocative . . . A tour deforce performance, comparable to but even more ambitious than Michael Ondaatje's landmark The Collected Works of Billy the Kid . . . Wildly successful." —The Kansas City Star

"A riveting portrait of a monomaniac . . . [Raising Holy Hell] casts a spell so binding that the reader becomes entangled in its intense emotional web. In plowing up the ground over John Brown's body, Olds has exposed the roots of modern racism. . . . Dramatic and disturbing." —Milwaukee Journal Sentinel

"A brilliant novel about the complexities of hatred . . . Its stunningly original narrative method speaks with uncanny relevance about our present era . . . An important and compelling novel." —Robert Olen Butler

"OIds can be both dazzling and overwhelming . . . Doesn't necessarily provide all the answers, but does raise some great questions . . . Imaginative and unusual." —San Francisco Chronicle

"A creative and compelling first novel. Great storytelling at the hands of a skilled and poetic writer." —The Star Ledger (Newark)

"Olds offers a fascinating study of slavery in the United States and of one of its most ardent opponents . . . A remarkably complex portrait of a paradoxical zealot." —Publishers Weekly (starred)

"In Olds's fiery, compelling new novel, John Brown's body . . . is up and about wreaking havoc. This is no ordinary telling . . . Bitterly eloquent." —Library Journal (starred)

"A devastating vision of an uncommon man . . . Old's haunting first novel plumbs the fiery soul of abolitionist John Brown, re-creating the alluring passion of fanaticism . . . Plunging dangerously into the American past, the novel forces the reader to confront Brown's unique brand of passion . . . In every way, a superb piece of historical fiction." —Booklist (starred)

"John Brown's body all but rises from the grave in this energetic, multifaceted . . . story at once fact-filled and power-packed. A provocative, compelling view of the man and his time." —Kirkus Reviews

"An awesome debut. . . Olds is interested less in a biographical portrait than in a shifting kaleidoscope of evidence and imagination. Brilliantly marshaled . . . Dazzling . . . A vibrant, triumphant portrait of a complex and troubled man." —New Statesman

"Riveting . . . Raising Holy Hell is intense, visceral, and shocking,a roasting in hellfire . . . . Olds combines the lean, clipped phrases of the thriller writer with the moral intensity of a Jeremiah. His is a scintillating, gripping, in-your-face prose." —Newsday
Picador, 9780312420932, 352pp.
Publication Date: August 3, 2002
About the Author
Bruce Olds is also the author of Bucking the Tiger, an American Library Association Notable Book. He lives in New Jersey.