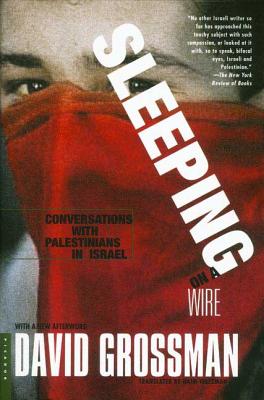 Sleeping on a Wire (Paperback)
Conversations with Palestinians in Israel
Picador, 9780312420970, 352pp.
Publication Date: April 19, 2003
* Individual store prices may vary.
Description
Israel describes itself as a Jewish state. What, then, is the status of the one-fifth of its citizens who are not Jewish? Are they Israelis, or are they Palestinians? Or are they a people without a country? How will a Palestinian state—if it is established—influence the sense of belonging
and identity of Palestinian Israeli citizens? Based on conversations with Palestinians in Israel, David Grossman's Sleeping on a Wire, like The Yellow Wind, is essential reading for anyone trying to understand the Middle East today.
About the Author
David Grossman has received several international awards for his writing, including the Premio Grinzane and the Premio Mondelo for The Zigzag Kid. He is the author of several novels and children's books, and a play. He lives in Jerusalem with his wife and children.
Praise For Sleeping on a Wire: Conversations with Palestinians in Israel…
"No other Israeli writer so far has approached this touchy subject with such compassion, or looked at it with, so to speak, bifocal eyes, Israeli and Palestinian." —The New York Review of Books
"Eloquent...gives voice to a community that rarely makes itself heard outside Israel and is largely ignored within that country...An old Yiddish saying maintains that it's hard to be a Jew. Recent history has also taught us that it's hard to be a Palestinian. But to be a Palestinian in a Jewish state seems the very definition of being caught between the rock and the hard place." —The Philadelphia Inquirer
"David Grossman is a brilliant and passionately honest young Israeli novelist whose clarity of vision and sensitivity to language inform his work as a political commentator." —San Francisco Chronicle