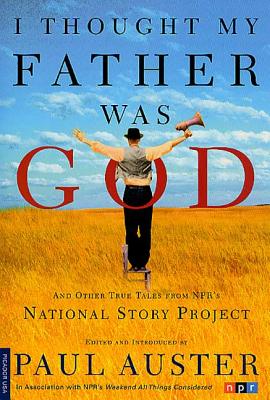 I Thought My Father Was God
And Other True Tales from NPR's National Story Project
Paperback

* Individual store prices may vary.
Other Editions of This Title:
Hardcover (10/1/2001)
Description
The true-life stories in this unique collection provide "a window into the American mind and heart" (The Daily News). One hundred and eighty voices - male and female, young and old, from all walks of life and all over the country - talk intimately to the reader. Combining great humor and pathos this remarkable selection of stories from the thousands submitted to NPR's Weekend All Things Considered National Story Project gives the reader a glimpse of America's soul in all its diversity.
Praise For I Thought My Father Was God: And Other True Tales from NPR's National Story Project…
"A powerful book, one in which strangers share with you their darkest secrets, their happiest memories, their fears, their regrets. To read these essays is to look into hearts, to see life from other viewpoints, to live vicariously." —The Boston Globe

"Unforgettable testimonials of human resilience. Moving and amusing dispatches from across America." —Us Weekly (starred review)

"Human foibles and frailties, laughter and tears...We are all hearing--and telling--stories all the time, especially now, in these days when life itself seems so fragile and precious. But Paul Auster's wonderful efforts, choosing these fine stories, have given us a timely and invaluable reminder of what it means to listen--to really listen--to America talking." —The Times-Picayune (New Orleans)

"Finally, a bathroom book worthy of Pulitzer consideration: the one-to-three-page stories gathered in this astonishing, addictive collection are absolute gems." —Publishers Weekly (starred review)

"It is difficult to think of another book published this year, and probably any book to be published next year, that is so simple and so obvious, so excellent in intention and so elegant in its execution, and which displays such wisdom and such knowledge of human life in all its varieties. It is also difficult to think of a book that is so stark a reminder that human experience can be horrid and utterly unbelievable, and which therefore answers so precisely to our current needs and circumstances." —The Guardian (UK)

"As this collection ably proves, we all shape experience into stories, and Auster has done a storyteller's job himself of grouping these pieces effectively. Highly recommended." —Library Journal (starred review)

"Like no other book I have read in years, this one restored my belief in Americans and the American experience." —Philip Levine, Ploughshares
Picador, 9780312421007, 416pp.
Publication Date: September 7, 2002
About the Author
Paul Auster is the bestselling author of 4 3 2 1, Winter Journal, Sunset Park, Invisible, The Book of Illusions, and The New York Trilogy, among many other works. He has been awarded the Prince of Asturias Prize for Literature, the Prix Médicis Étranger, the Independent Spirit Award, and the Premio Napoli. He is a member of the American Academy of Arts and Letters, the American Academy of Arts and Sciences, and a Commandeur de l'Ordre des Arts et des Lettres. He lives in Brooklyn, New York.

"Auster has an enormous talent for creating worlds that are both fantastic and believable. . . . His novels are uniformly difficult to put down, a testament to his storytelling gifts."—Timothy Peters, San Francisco Chronicle
Paul Auster is the bestselling author of 4 3 2 1, Winter Journal, Sunset Park, Invisible, The Book of Illusions, and The New York Trilogy, among many other works. He has been awarded the Prince of Asturias Prize for Literature, the Prix Médicis Étranger, the Independent Spirit Award, and the Premio Napoli. He is a member of the American Academy of Arts and Letters, the American Academy of Arts and Sciences, and a Commandeur de l'Ordre des Arts et des Lettres. He lives in Brooklyn, New York.

"Auster has an enormous talent for creating worlds that are both fantastic and believable. . . . His novels are uniformly difficult to put down, a testament to his storytelling gifts."—Timothy Peters, San Francisco Chronicle