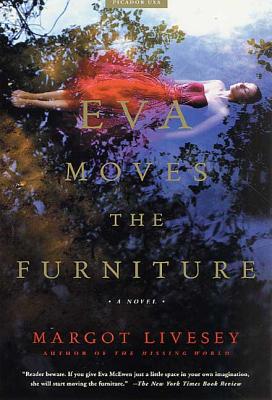 Eva Moves the Furniture
A Novel
Paperback

* Individual store prices may vary.
Other Editions of This Title:
Hardcover (9/1/2001)
Description
On the morning of Eva McEwen's birth, six magpies congregate in the apple tree outside the window--a bad omen, according to Scottish legend. That night, Eva's mother dies, leaving her to be raised by her aunt and heartsick father in their small Scottish town. As a child, Eva is often visited by two companions--a woman and a girl--invisible to everyone else save her. As she grows, their intentions become increasingly unclear: Do they wish to protect or harm her? A magical novel about loneliness, love, and the profound connection between mother and daughter, Eva Moves the Furniture fuses the simplicity of a fairy tale with the complexity of adult passions.
Praise For Eva Moves the Furniture: A Novel…
"Margot Livesey is a writer at the pinnacle of her craft. Eva Moves the Furniture is such a complete, sturdy yet graceful novel that it is difficult for a critic to wedge herself in between the writer and the reader." —Los Angeles Times Book Review

"Livesey is a writer of tremendous grace and precision.... [Her] wonderful new novel will haunt you in a sweet way, and leave you with a spark of hope for us all." —Chicago Tribune

"What is extraordinary about this novel is the fretwork of feeling among its unorthodox cast of characters.... Livesey has written a ghost story, of sorts...and, if it moves you, the end will send you back to the beginning." —The New Yorker

"Stunning...She limns her tale with beautiful evocations of the loneliness of childhood, the shimmery quality of ghostly spirits and the fear and excitement of wartime." —San Francisco Chronicle Book Review

"In this fetching, ultimately moving novel, magic and danger are so inextricably bound that the palpable world seems slightly less trustworthy than the one you cannot see." —The Boston Globe

"Livesey writes with such restraint that the shock lies in events themselves, not her language. She uses metaphors beautiful in their precision....Simultaneously chilling and compassionate." —The Washington Post Book World

"This is a novel that enters the reader's life in much the same way that the companions come to Eva. It looks harmless enough, like a child's fantasy, inhabiting a fairy tale in which powerful, other-worldly forces are at work, but reader beware. If you give Eva McEwen just a little space in your own imagination, she will start moving the furniture." —The New York Times Book Review

"Perfectly structured...In prose direct and precise she limns Eva's story with steady authority." —The Atlantic Monthly
Picador, 9780312421038, 240pp.
Publication Date: October 4, 2002
About the Author
Margot Livesey is the award-winning author of a story collection, Learning by Heart, and of the novels Homework, Criminals, The Missing World, and Eva Moves the Furniture, which was a New York Times Notable Book, an Atlantic Monthly Best Book of the Year, and a PEN/Winship finalist. Born in Scotland, she currently lives in the Boston area, where she is writer in residence at Emerson College.